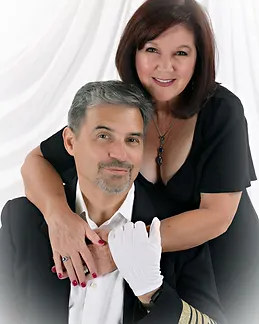 Fresh and Felicia are problem solvers. Innovators. Influencers. And generally fun people. From their honest and object product reviews found on their Amazon Live streams and YouTube properties, to their shared cruise adventures across the seven seas on Cruise Reviews, to the inner workings of Felicia's growing crafting and maker hobbies and Etsy store at Family Unit, and exploring health and wellness for a longer and healthier life via the Give 'em Well blog and YouTube videos, Fresh and Felicia are creating free content that's interesting, informative, and fun.
Chuck Fresh is an internationally renowned DJ and announcer, author, entrepreneur. He's also the one time host of several television shows and documentaries, and currently the actor behind the character "Tim Cruise" from Cruise Reviews and Family Unit. Felicia is the creative crafter and more organized right-brain glue that holds everything together.
Tim and Felicia began cruising more than 20 years ago, and quickly discovered it's the most fun and affordable all-inclusive vacation deal on Earth. How else can you eat, drink, and be merry for one flat fee, while waking up in a different place each morning without the responsibility of driving or the headaches of unpacking each day? Having sailed on MSC, Virgin, Carnival, Royal Caribbean, Disney, and Norwegian, the ridiculously flamboyant Tim Cruise and more grounded Felicia share their new experiences as they expand from the Caribbean to the ends of the world.
Felicia comes from a long line of crafty people, and has continued that tradition saving countless hours of time exploring some really cool new technology. Join Felicia in her crafting journey as she shows you how to create affordable and beautiful things in your home from paper, cloth, and wood using professional cutting machines, laser engravers, embroidery and sewing machines, and a whole lot more. Tim jumps in with his always inspiring and colorful commentary.
After hearing about strange chemicals we can't even pronounce in our water like polyfluoroalkyl substances, trihalomethanes, microscopic plastics and bisphenol-S, we decided to investigate what might be affecting our health before it's too late. We discovered our government, big pharmaceutical companies, and our own doctors and insurance plans aren't doing enough to protect our family's health – so we decided it was up to us to do it ourselves. We've expanded our search into preventative nutrition, herbs, and practices that make us feel better, healthier, younger, and happier. We have also enlisted the help of several doctors and specialists in our journey to sharing the health with GIVE 'EM WELL!