Felicia and Tim demonstrate how to use the LOKLiK cutting machine in English.
Here's what's in the box, how to set it up, how to connect it to Bluetooth, and how to make your first cut, all in plain English.
LOKLiK, which is the parent company of HTVRont, is a Chinese company. If you correctly deciphered the YES and NO button options in the completely Chinese installation process we used for their Idea Studio software for PC, you'll get to the point in which you can use the LOKLiK Crafter. The Mac install process was much easier. As of this date, it won't work with Chrome OS.
Most cutting machines allow you to select any brand of generic HTV, removable, or permanent vinyl and will apply the correct pressure to produce a perfect cut. LOKLiK allows automated cut settings for their brand of vinyl. With other brands, they recommend you look up the pressure and cut settings, and then enter them manually into the software before cutting. You could probably use the built-in LOKLiK cutting settings for most major brands of vinyl. Here's a handy reference as of October 2023.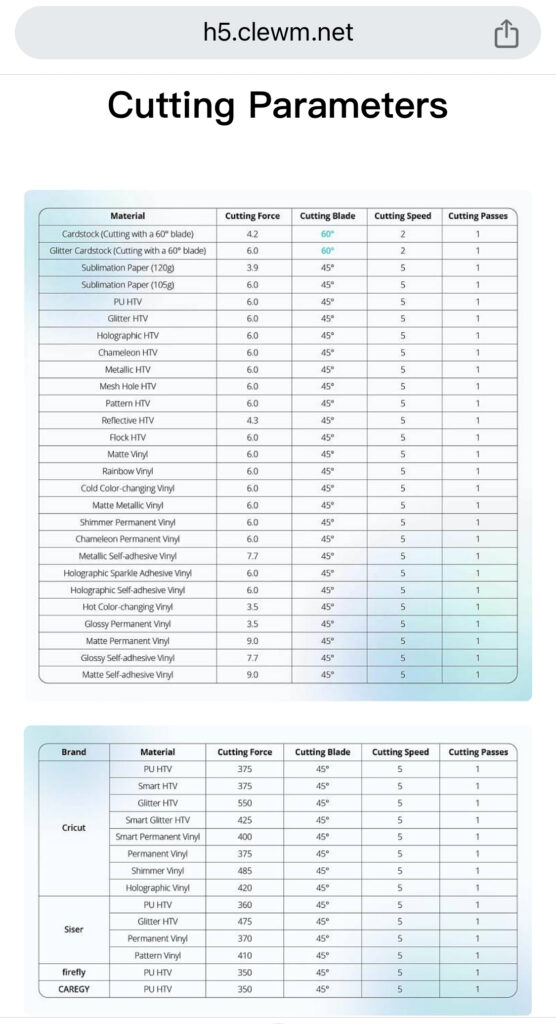 Despite these minor issues, HTVRont's LOKLiK has produced an affordable Cricut alternative crafting and cutting machine. It does almost everything most Cricut, Siser, Silhouette, and Brother cutting machines can do at a fraction of the cost.
LOKLiK Crafter: Pros
1. It's cheaper than other cutting machines with similar features
2. It works with standard 12×12″ cutting mats
3. It's extremely quiet when cutting
4. With a little training, the software isn't terrible
LOKLiK Crafter: Cons
1. PC-based software was an all-Chinese installation (as of September 2023)
2. Very little setup documentation
3. Included patterned heat transfer vinyl is kinda unusable
4. Manual pressure and speed settings required for non-LOKLiK vinyl
5. Print and cut is possible but still not perfect
✅ Materials used in our YouTube video include (affiliate links):
➡ LOKLiK Crafter Cutting Machines – https://amzn.to/48B4XXB
➡ LOKLiK Idea Studio Software for PC and Mac: https://www.loklik.com/download
✅ Need more crafting products?
👉 Visit Cricut's Official Site: https://cricut.pxf.io/QOaOBa
👉 Check out our Amazon Craft Idea List: https://amzn.to/46jF0cX
👉 See What We've Made on Etsy! https://www.etsy.com/shop/FamilyUnitOriginals
👉 Teckwrap: https://teckwrapcraftaffiliateprogram.sjv.io/Gmg2oE
✅ Subscribe to our awesome YouTube channel!
Do you have any tips to share? Let us know in the comments section. We appreciate every 👍 and would love it if you'd subscribe to our channel! It's free! Subscribe here ➡ https://www.youtube.com/@FamilyUnit?sub_confirmation=1
✅ Let's Connect!
😎 Instagram ➡ https://www.instagram.com/familyunit_on_youtube
😎 Facebook ➡ https://www.facebook.com/ourfamilyunit
😎 TikTok ➡ https://www.tiktok.com/@familyunit_on_youtube
😎 For all inquiries ➡ hello at freshandfelicia.com
🎞️ More Helpful How-To Videos
✓ How to Use a Cricut Maker – https://www.youtube.com/watch?v=F0qzvg_xf9c
✓ Brother Scan n Cut SDX125 Review – https://youtu.be/yrSbRe35tpw
✓ Brother SE1900 Sewing and Embroidery Machine – https://youtu.be/Q6RtRZLcJ7o
❇ Disclosure
Links included in this description and comments may include affiliate links. If you purchase a product or service with the links that we provide we may receive a small commission that helps us pay our bills. Don't worry – there is no additional charge to you. Thank you for supporting our blog so we can continue to provide you with free content!