Apple Watch Series 9 models have arrived! Are the new features worth upgrading your old watch? Let's dig in and talk about the new Apple Watches.
Since the Apple Watch Series 6 was released in late 2020, Apple's smartwatches have gotten slightly larger and displays have gotten bigger. The wearables have added health-tracking features, new perks and faster processors. The design of the Apple Watch Series 9 and Ultra 2 is unchanged since the Series 8 and original Ultra releases, so don't expect a different look. It uses 20mm interchangeable watch bands, just like its predecessors, so you won't have to upgrade bands.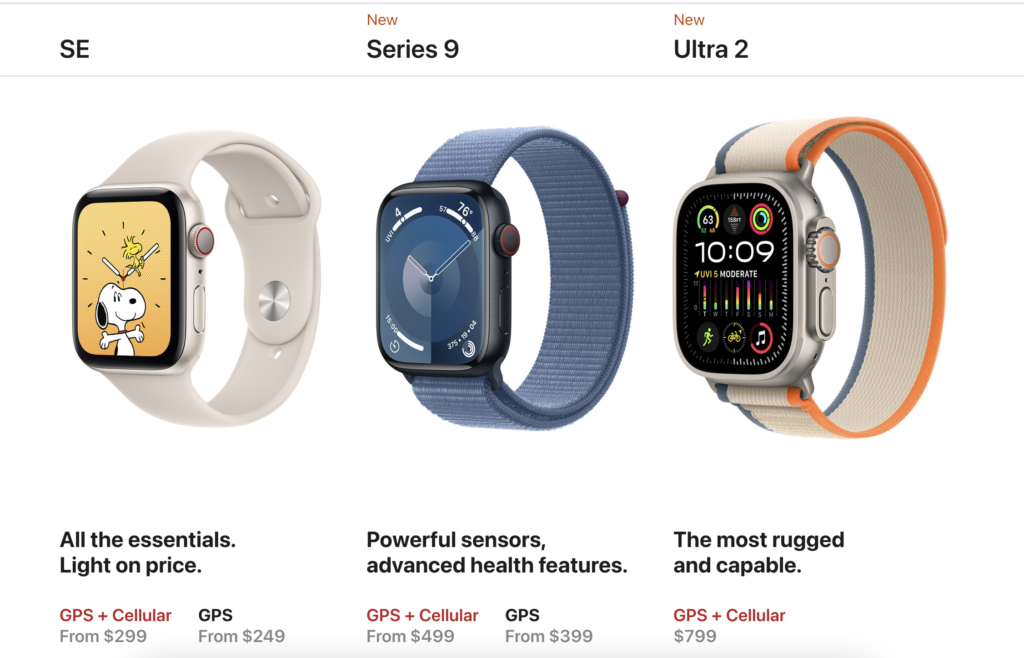 Apple Watch Series 9
In a world of round watches, Apple Watch Series 9 is still squarishly rectangular. We still think Jony Ive may have had his punch spiked while designing the original Apple Watch because it's so not as elegant as other Apple products. But then again, this was the first post-Steve Jobs era product, so there may be an untold story or revenge or retribution here. Who knows. Series 9 is made with a 100% recycled aluminum or stainless steel case, with the latter costing several hundreds more. They all feature a thick front crystal with a flat base for durability and crack resistance. There's tough "Ion-X" front glass on aluminum models, and wildly strong sapphire front crystals on the pricier stainless steel models.
If you have so much money you're forced to weigh it rather than count it, or if you happen to be a relative of Bruce Jenner, or if you're a Subaru WRX-driving Fast and Furious maniac who wouldn't be caught dead without his Louis Vuitton handbag, there's also a "Hermes" edition Apple Watch, ridiculously overpriced at $1250 and up. The specs and overall functionality of the Apple Watch Hermes remain the same as the standard version, meaning paying three times more than an SE won't get you a longer lasting battery, 24k gold, a butler, a reality show, or even a fancier display. What you might get is laughed at by Fresh for being silly.
Series 6 introduced the SPo2 sensor for tracking blood oxygen, which is a key indicator of sleep quality. This sensor can help diagnose lower levels of blood oxygen, exposing conditions like sleep apnea that deplete rest and can be life-threatening. The sensors have improved over previous generations.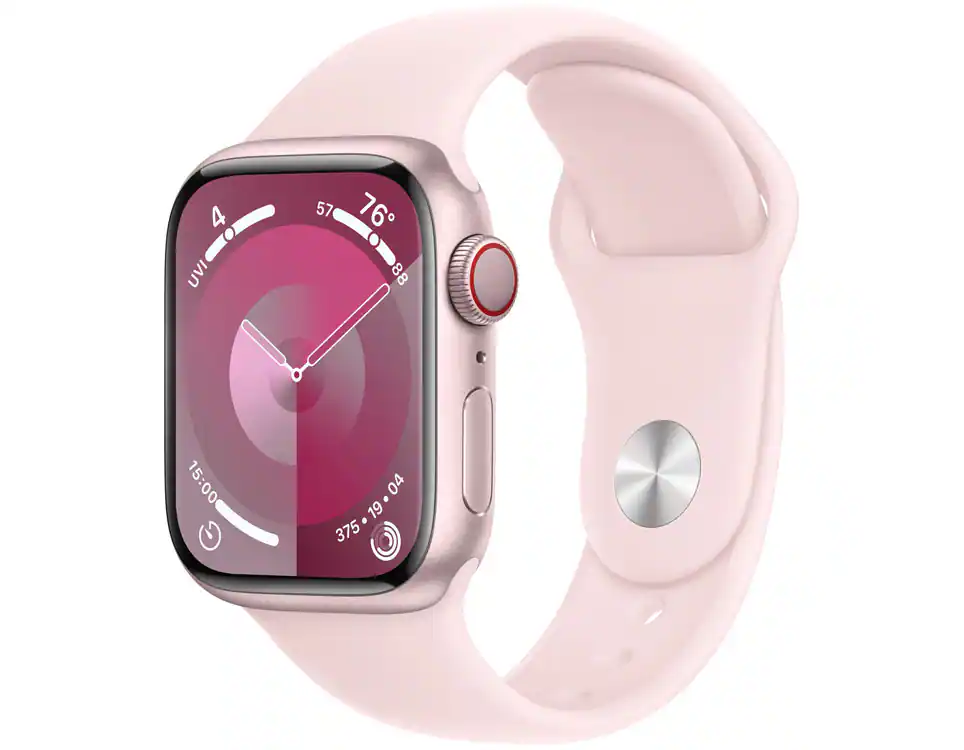 Upgraded S9 SiP Processing
With the upgraded S9 SiP processor, with 60% more transistors than the S8 chip, the Series 9 offers more efficiency and a higher performance ceiling. Your watch is able to do more processing on its own without relying on your phone. The ability to process Siri requests directly on the Apple Watch means requests return quickly, and Siri can produce some results even when no internet connection is available. This is super helpful for people like me who run without our phones.
Included in the S9 SiP is the ability for sensors to recognize a gesture that Apple is calling "the double tap." When pinching your index finger and thumb together twice in rapid succession, you should be able to trigger actions on your Apple Watch like using it to answer calls, pause or play music, snooze an alarm, start a timer, begin a voice recording, and more. A new machine-learning algorithm using the 4-core neural engine along with the Series 9 accelerometer, gyroscope and optical pulse sensor allow the Series 9 to identify and learn changes in blood flow and your movements when you tap your finger and thumb together. It takes a serious finger tap in my experience with some force – more like a double thump – to recognize my movements. Assuming this will learn from my physiology as time goes on. The double-tap feature should be super useful when one of your hands is wet, sticky, slimy, carrying something, doing something else, or just plain dirty. This feature should roll out sometime in October. Assuming double-thump, err, double tap performs as well in the real world as it did during the Apple keynote, this will evolve into a very useful feature.
Series 9 continues with Always-On technology. This keeps the display on all the time so you can see information at a glance without having to flick your arm around strangely. With a maximum brightness of 2000 nits, twice that of Series 8 and SE, it's easier to read in bright sunlight. Detailed watch faces look very clear. The edge-to-edge design accommodates your favorite applications and makes tapping and swiping easy.
All Series 9 models have Emergency SOS to call for help and alert emergency contacts; fall detection if you've taken a hard fall; and crash detection for help in the event of a severe car crash. The new ultra-wideband chip offers precision tracking, including using it to track the location and distance of things like your phone, AirTags, or another iPhone or Apple Watch user.
Apple Watch Series 9 is available in 41mm or 45mm sizes, and an aluminum finish in the colors pink, midnight, starlight, silver or "product" red. Product Red is some kind of charitable thing that receives a portion of red watch sales proceeds that probably support organizational costs more than the charity itself. It's also available in a pricier stainless steel finish in gold, silver or graphite with a more durable sapphire crystal. And, of course, there's the Hermes thing.
Apple Watch Ultra 2
Apple launched the first Apple Watch Ultra in 2022, targeted towards the outdoor adventure market where Garmin is still king. Fresh has worn a Garmin Instinct Solar since 2021, and after the step counter and solar charging spontaneously died, decided it was time to look at another brand. The updated Apple Watch Ultra 2 provides some internal upgrades and software updates that make it interesting.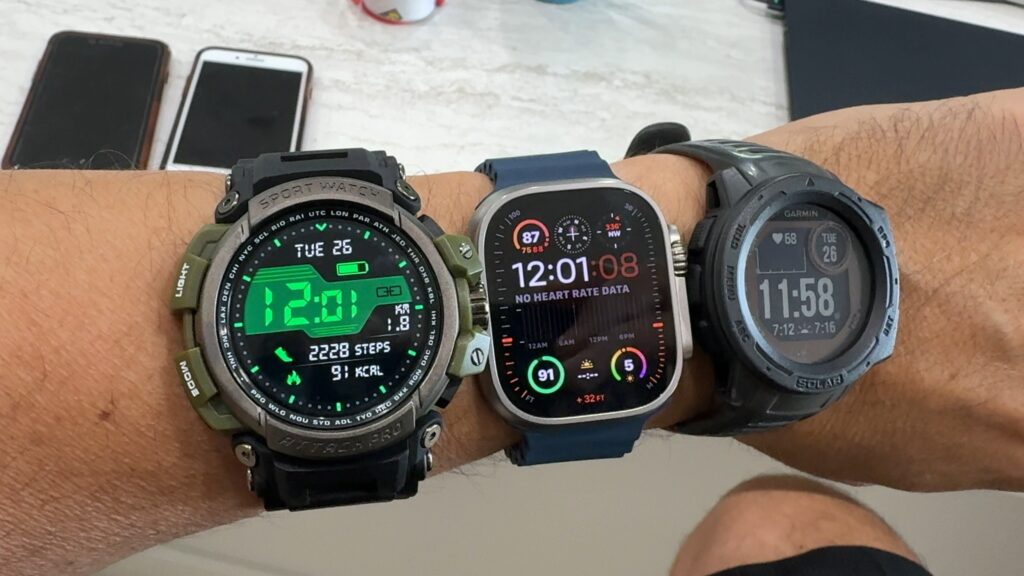 Apple Watch Ultra 2 is made with 95% recycled aerospace-grade titanium for the perfect balance between weight, ruggedness, and corrosion resistance. Fortunately, for active rough-and-tumble bros like me, the Ultra 2 case was designed with raised edges to protect the flat sapphire front crystal from edge impacts, similar to the Instinct. Hopefully, it's super rugged to withstand bumps, bruises, dust, mud, dirt, oil, salt water, and other damaging elements.
Lots of Nits
Ultra 2 features the brightest display of all Apple Watches with up to 3000 "nits" of brightness — the brightest display Apple has ever designed. I asked one of my techy bros, "Hey, techy bro, what's a nit?" He was like, "ain't that a bug or something?" So I was forced to Google it. https://youtu.be/Ear3BS4XI_o
A nit is a (non-standardized) brightness measurement unit meant to measure the degree of brightness a viewer's eye can see from a screen. One nit is equivalent to 1 candela per square meter (1cd/m2), whatever that means. Bottom line? Three thousand nits is pretty darn bright, comparing roughly to over 10,000 lumens, which is about the brightness of an industrial level video projector. The difference between lumens and nits is that lumens are associated with the source of light, while nits are associated with the result of the light, or what your eyes see. Basically, you'll be able to read your display even at the beach in direct sunlight. I'm hoping to avoid corneal damage while looking at my Series 9 Ultra 2 Apple Watch. For more on nits, check out this post.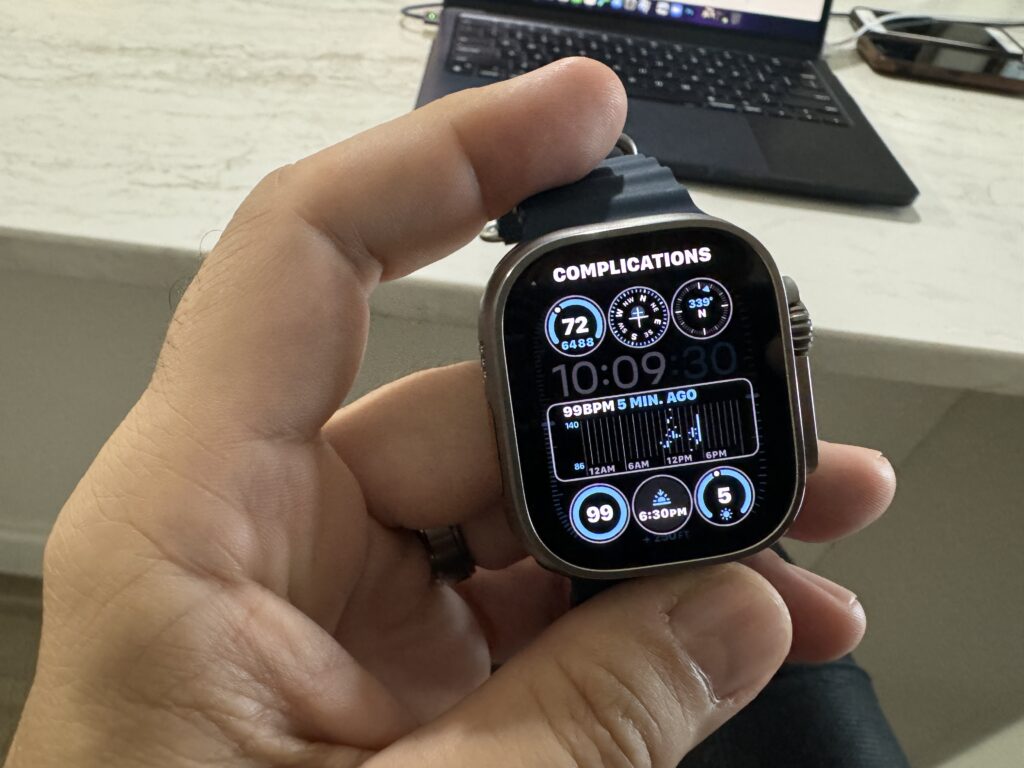 The only Series 9 Apple Watch available with a whopping 49mm bezel, it's large enough to see up to six lines of text messages or workout metrics at a glance, and readable in direct sunlight. There's lots of room for complications, a terrible name for on-screen controls and apps. "Complications" are additional features that display weather, calendars, stock prices, battery levels, compass coordinates, or a shortcut to an app. Steve Jobs is undoubtedly rolling in his grave over that naming convention.
The Always-On tech keeps the display on so you can see information at a glance. The new exclusive Modular Ultra watch face is easily customizable and shows real-time altitude, depth, or second on the outermost edges, and a cool red LED-ish Night Mode can activate automatically in the dark. I'm not really a recreational diver or avid mountain climber, but I do enjoy a bigger, brighter screen and extended battery life. I get it's not for everyone.
Other Ultra 2 Features
And the Apple S9 with 64-bit dual-core chip will make scrolling and accessing apps faster. Despite the new processor, the battery life remains the same at a 36-hour advertised charge. The brighter display may reduce battery life, but the more efficient S9 processor should result in battery life balance.
Ultra 2 also adds a customizable Action button to begin a workout, turn on your flashlight, and more. Apple promises amazing GPS accuracy even in urban settings with features including a compass app with Backtrack, Waypoints, and a new Elevation view for easier navigation. For divers, there's a new depth gauge that activates automatically when you submerge. There's also dual speakers and three-mic array with beamforming for better phone call sound.
There are some other interesting features on the Ultra 2. Apple says it's been engineered for more peace of mind when you're out in the wild. And we can't wait to try the new siren feature that supposedly can be heard up to 600 feet away.
The Apple Watch Ultra 2 is still priced at $799 so the new watch won't cost you any more than last year's Ultra.
Other Apple Watch Series 9 Features
The SE, Series 9, and Ultra 2 Apple Watches all feature a second-generation speaker and microphone for better sounding phone calls. And they sound very good on both ends.
Series 9 and Ultra 2 have temperature sensing that works with Cycle Tracking. You can generate an ECG similar to a single-lead electrocardiogram with the ECG app that also has the ability to monitor atrial fibrillation if you need to deal with that. You can take on-demand readings of your pulse or track blood oxygen. And there's crash and fall detection with advanced sensor-fusion algorithm trained on over 1 million hours of real-world drive and crash data to detect a severe car crash.
Subscribe for our full video reviews of the Apple Watch Series 9 and Apple Watch Ultra Series 9 on our YouTube at https://www.youtube.com/@freshandfelicia
What's Next In Apple Watches?
Apple's internal Exploratory Design Group (EDG) is behind one of Apple's most ambitious initiatives: a noninvasive blood sugar monitoring system destined for diabetics that should appear in a future version of its smartwatch. Analysts expect this may be released as a keystone feature of the 10th anniversary Apple Watch X, which should be released sometime in late 2024.
There's also other new health features like a blood pressure monitor expected to come next year or in 2025. Lokmat already has this feature on their Attack Pro watch and it's surprisingly good. And Apple is also working on an AI-powered health coaching service. I thought its Circles app was already an AI-powered health coaching service, but I suppose the new one will be even more AI-ish.
Affiliate Links to Amazon
When you're ready to get an Apple Watch for yourself or for someone else, use our affiliate links and help support our channel! We may earn a few pennies from qualified purchases.
➙ Apple Watch Ultra 2 – https://amzn.to/4654iw1
➙ Apple Watch Series 9 – https://amzn.to/3PzD0qh
➙ Garmin Instant Solar – https://amzn.to/3LCB9zU
➙ Lokmat Attack Pro – https://amzn.to/3rkZ2VX
➙ (Not shown) Garmin's New Tactix – https://amzn.to/3EUaFpT