Felicia and I both have iPhone 14 Pro Max. The question begs, iPhone 15 is here. Should we upgrade? Are the new features worth trading in our iPhone 14s and continuing down the continuous monthly payment cycle every 12 months? We decided to do some research to determine if upgrading our iPhones to the Pro Max 15 is really worth it. Here's what you need to know about iPhone 15.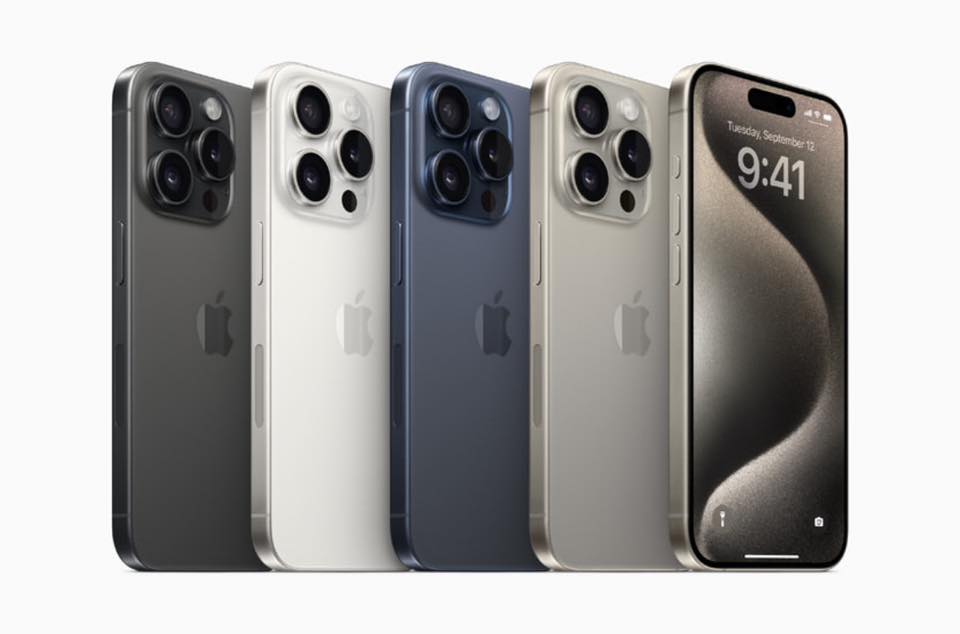 The BIG Change: USB-C Is NBD
USB-C can be faster than Lightning, but it depends on the specific USB-C controller chip used in your hardware. The latest USB-C hardware can theoretically support data transfer speeds of up to 120 gigabits (120,000 megabits) per second, while Lightning is limited to 480 megabits per second. Yes, that's quite a difference. None of the current generation of iPhone 15 will allow the maximum speed.
Sadly, the new USB-C ports on the iPhone 15 and iPhone 15 Plus only support USB 2 speeds, which is about the same as Lightning. If you want faster data transfer speeds, you will need to upgrade to the iPhone 15 Pro or Pro Max, which support USB 3 speeds of up to 10 gigabits (10,000 megabits) per second. That's less than 10% of the theoretical speed limit, but 20x faster than 480 megabits.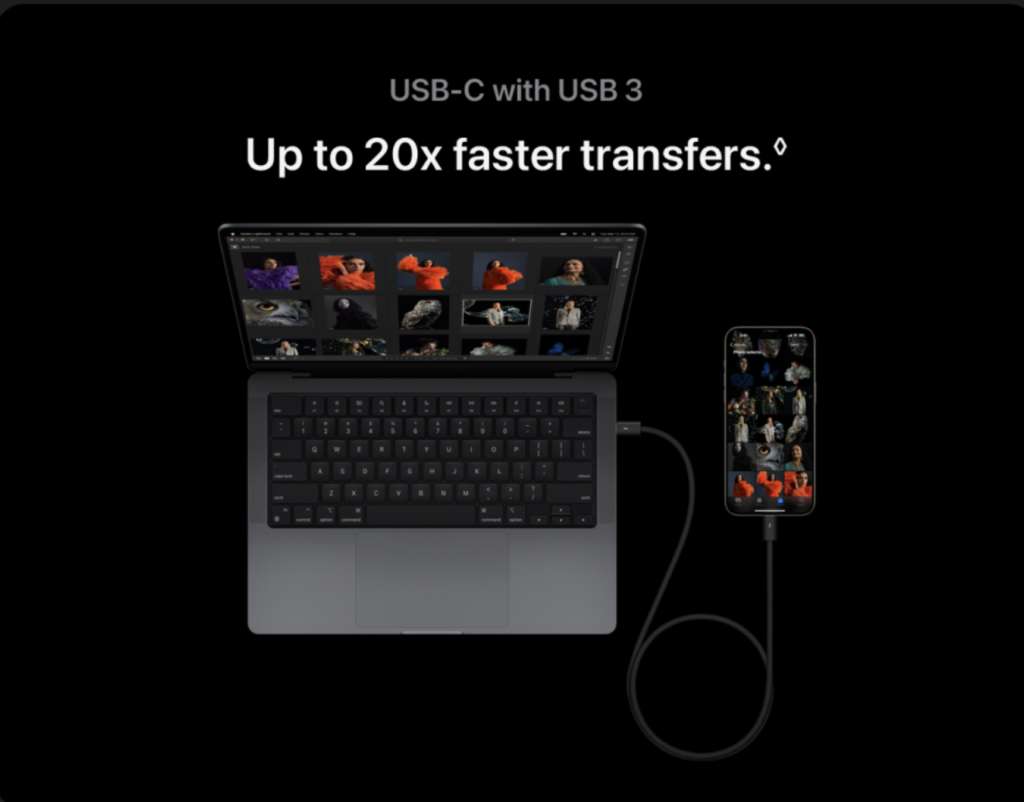 To be honest, most people don't take advantage of wired data transfer and the higher speeds. If we have a lengthy 4K video that might take an hour to transfer wirelessly, we'll plug it in for the faster transfer speed, but that's very rare. We don't think the faster data transfer speeds is a feature most iPhone users really care about.
However, the new USB-C ports on the iPhone 15 are super convenient for hardwire charging. With the widespread acceptance of USB-C cables, it'll be much easier to charge your phone on the go. When we travel, we'll be able to use the same charging cables we use for our iPad and MacBook Air. Most folks have adopted Apple's super convenient MagSafe chargers, most of which are already USB-C. USB-C charging isn't expected to be much faster than the Lightning ports on existing iPhones.
In summary, USB-C data transfer can be faster than Lightning, but it depends on the specific hardware and the version of the USB specification it supports. The new iPhone 15 and iPhone 15 Plus have USB-C ports, but they only support USB 2 speeds, which is the same as Lightning. If you want faster data transfer speeds, you will need to upgrade to the iPhone 15 Pro or Pro Max.
New iPhone 15 Cameras
Each generation of iPhone has improved camera technology. Since iPhone video and photography have already evolved to rival our DSLR cameras, many people use their iPhones as primary cameras. Improvements in image sensors, image processing, and lens technology are important to content creators like us, and one of our main decision points on deciding on hardware upgrades.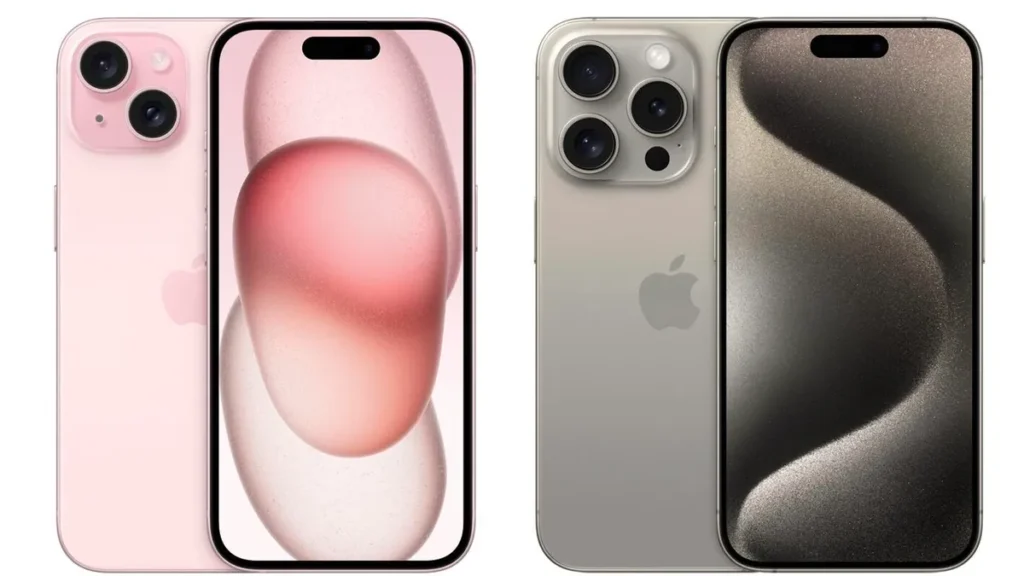 As with previous iPhone lines, the iPhone 15 features two cameras on the back, and the iPhone 15 Pro and Pro Max have three. All models have a 48-megapixel wide lenses with optical image stabilization and a 48MP Quad Bayer sensor, and a 12-megapixel ultra wide lens.
Capturing higher dynamic range 48MP Raw images is still a premium feature reserved for the Pro models, but now every iPhone 15 device can also record 48MP HEIF files (or JPEG files if you opt for "Most Compatibility" in camera capture settings). Apple calls the 48MP option 'HEIF Max' or 'RAW Max' – so you can shoot in RAW Max on your iPhone 15 Pro Max or in HEIF Max on your iPhone 15 Plus. Yes, we're as max confused as you are. Keep in mind that RAW images may be as high as 75-80 megabytes in size, so saving everything in RAW will quickly eat up a lot of your phone's memory storage.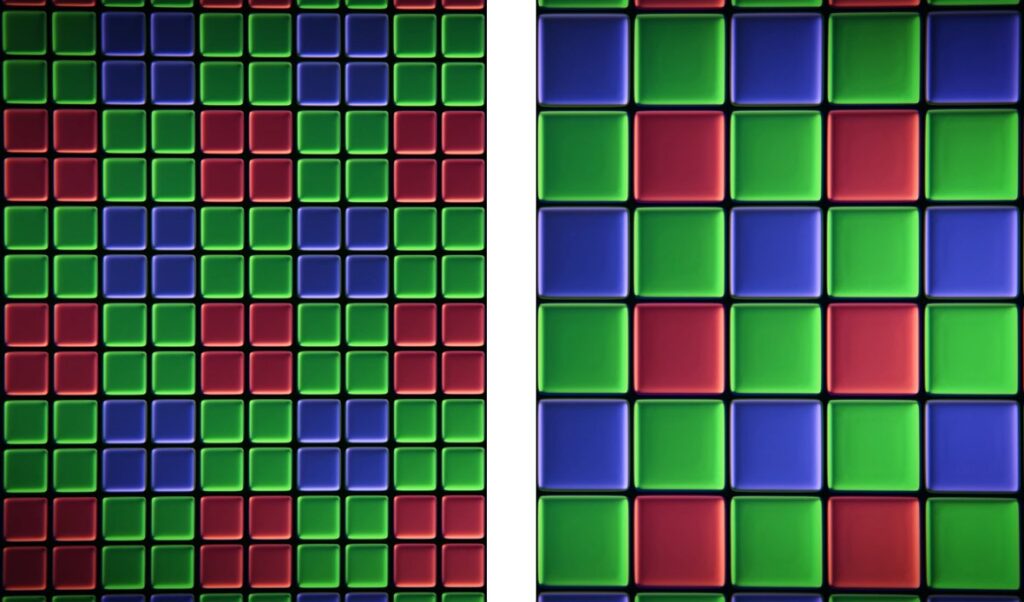 The iPhone 15 Pro adds coated lenses for fewer reflections, and a 12-megapixel telephoto lens with a 3x optical zoom that lets you get closer to your subject. All smartphones have a digital zoom function that allow even more magnification, but digital zoom images are typically pixelated and unclear. The 120mm telephoto lens uses a "tetraprism: design with three-axis sensor-shift optical stabilization. The 12MP sensor with f/2.8 aperture in the iPhone 15 Pro Max's telephoto camera is 25% bigger than the one in the iPhone 14 Pro. That's should be a great jump in telephoto quality considering light rays are now reflected four times through its glass structure. Apple's Photonic Engine and Deep Fusion technologies work together to boost image quality and add new camera features.
One important feature only available with the iPhone 15 Pro Max – the 120mm telephoto lens increases optical zoom to a whopping 5x, which is pretty incredible for a device this size. Be aware that when Apple introduces a new feature like this, it typically takes a full generation to perfect its performance.
A potential downside of the iPhone 15 Pro Max camera is the focal range gap between its 24mm f1.78 main camera and its new 120mm equivalent telephoto. Apple promotes its new phone's "seven pro lenses," which promise 28mm, 35mm and 48mm options. They're really main camera images cleverly cropped with a bit of algorithmic craziness. Pro and Pro Max users do have the ability to set a default focal length. The lens does not offer an actual zoom mechanism, so they kind of algorithmically fake zooms.
Both models support night mode, but only the iPhone 15 Pro and Pro Max now let you take night mode shots in portrait mode. You no longer have to switch to Portrait mode for those cool shallow bokeh depth-of-field shots. If your subject is a person, dog, or cat, iPhone automatically captures depth information. So you can choose to instantly see your photo as a portrait with an artful blur effect. Or you can adjust it later in the Photos app.
iPhone 15 Video Improvements
Video-wise, Apple showed the iPhone 15 Pro has the capability to shoot a professional music video. There are three upgrades that indicate Apple's Pro and Pro Max series are becoming genuinely 'Pro' video cameras. The ability to shoot video in Apple's new 'Log' (short for logarithmic) color profile allows video shooting using their new Pro Res 4K Log format. Log lets you shoot raw footage which preserves a wide dynamic range and gives you much more color-grading flexibility in post-production apps. The second upgrade is the aforementioned 10 gigabits per second USB-3 port with the Pro and Pro Max, which allows us filmmakers to transfer large video files less painfully. The most important upgrade is improved ProRes recording. ProRes with the faster USB-C data transfer allows you to record 4K/60p ProRes with HDR video directly to an external hard drive. That's pretty cool.
iPhone filmmakers are still limited by 'glass' – meaning you won't have all the features of a wide array of professional interchangeable video camera lenses. To take full advantage of the iPhone Pro and Pro Max video capabilities, you'll probably need a cage or stabilizer for your iPhone, studio lighting, and don't forget professional microphones (with a USB-C analog to digital converter) for useable audio. We've got a list of helpful things on our Amazon affiliate store here: https://amzn.to/3EKoVSa
Titanium vs Aluminum
The new Pro and Pro Max iPhones are technically out of this world, made with aerospace‑grade Grade 5 titanium, a lightweight, durable metal alloy. Grade 5 titanium consists of titanium along with small amounts of aluminum and vanadium, making this year's models lighter. This alloy is used in NASA rockets and the Mars rover.
The new Pros have thinner bezels for slightly more glass on the front screen, which are still 6.1 inches for the iPhone 15 Pro and 6.7 inches for the iPhone 15 Pro Max. The titanium iPhones are available in four metallic hues: traditional black and white titanium, as well as a blue titanium and a "natural" titanium with a gray tone. More colorful options are available for the aluminum and glass iPhone 15, where you can get it in pink, soft yellow, light green, pale blue or black. Since most sane people put cases on these investments, the colors don't really matter.
Note there's still a glass plate on the back of all the new iPhones. However, Apple has made this easier to replace in the event it breaks. Apparently, wireless charging won't work through metal, so the back glass is here to stay to keep MagSafe working.
Batteries, Bionics, and Action
Both the iPhone 15 and iPhone 15 Pro feature the same size screen, a 6.1-inch Super Retina OLED XDR display with a super high definition 2,556 x 1,179-pixel resolution. The Pro series display features ProMotion technology, which is a smart variable refresh rate between 10Hz and 120Hz resulting in smoother motion in videos, games and just scrolling through web pages compared with a fixed 60Hz refresh rate on the iPhone 15. When you don't need the higher refresh rates, the Pro series will lower them to help conserve battery life.
The standard iPhone 15 now offers the Dynamic Island, formerly only available on Pro models, which gives functionality to the formerly useless area around the front-facing camera. iPhone 15 Pro also has an always-on display that keeps it on and dimmed when charging so you can use StandBy mode, which lets you lay your phone horizontally so it looks like a bedside alarm clock or even a kitchen timer. You don't get an always-on display with a non-pro iPhone 15.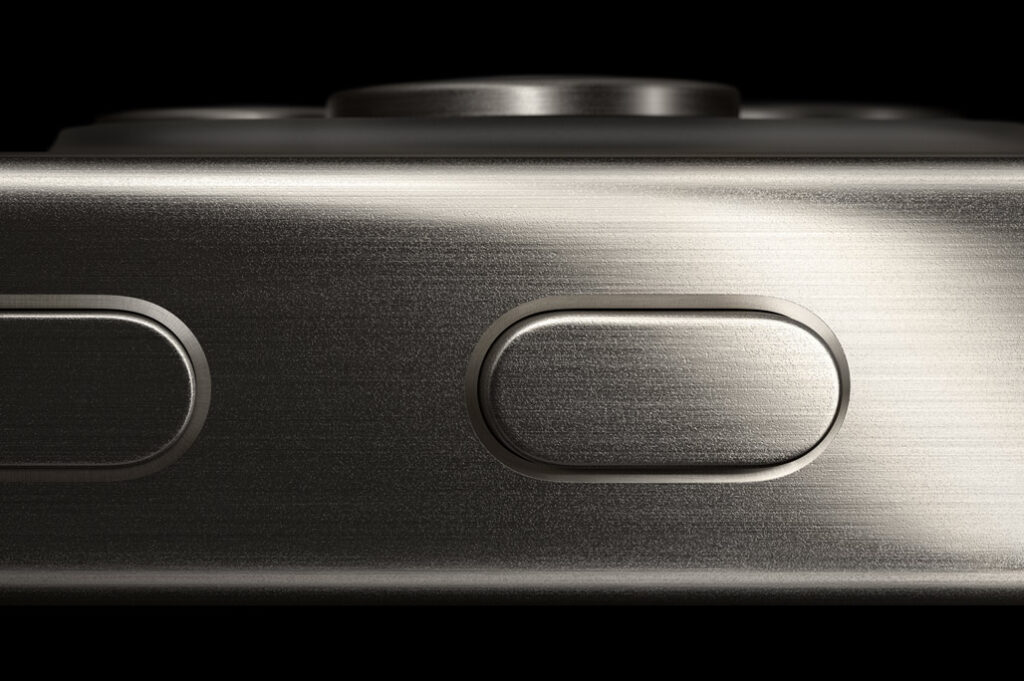 There's another new feature on the pro models – an action button that replaces the final mechanical switch our iPhones have had for years. A long press will mute or unmute your phone, but you can customize it to trigger a other shortcuts like turning on the flashlight, recording a voice memo, or even a camera shutter. Love the camera shutter option, but a non-visible mute/unmute will probably drive people crazy until they get used to it. Non-pro models still have the mechanical switch.
While the iPhone 15 sports Apple's A16 Bionic chip, the iPhone 15 Pro phones feature the A17 Pro chip that enables faster performance and theoretically PS5 console-quality video games. There's also a new AV1 video decoder, which should enable greater efficiency and battery life for streaming video. The company rates the iPhone 15 Pro (23 hours) and iPhone 15 Pro Max (29 hours) for three more hours of endurance than its non-pro counterparts, the iPhone 15 (20 hours) and iPhone 15 Plus (26 hours).
Apple continues to offer some of the best IP-rated protection in the business, quoting figures that actually surpass its IP68 certification against dust and water resistance.
All new iPhone 15s ship with iOS 17. We installed the iOS 17 beta on our iPhone 14 Pro Max phones, and didn't notice a huge difference in the look or features. There are some new ringtones, some additional widgets and photo features, more AirDrop options, and a few other minor improvements we couldn't live without.
The iPhone 15 is available in 128GB, 256GB, or 512GB configurations, while the iPhone Pro and Pro Max can be found with an additional 1TB option.
We've decided to pre-order two iPhone 15 Pro Max phones. We'll post our video review along with sample images and video comparing the 14 Pro Max to the new phone images. You can order your new iPhone 15s on Amazon using our affiliate link to help support our blog (THANK YOU!)
iPhone 15 Pro Max on Amazon: https://amzn.to/3EN27RH
iPhone 15 on Amazon: https://amzn.to/46hItZH
iPhone 15 protective cases: https://amzn.to/3PgIJRS