Many of our friends ask us about our favorite mode of vacation, taking a cruise. They have so many questions, including what is a cruise? Where do cruises go? Why should I try a cruise? Felicia and Tim tackled these popular cruise questions in Cruise Tips for Beginners. Even some experienced cruise takers may learn a thing or two from these cruise tips.
Since Covid restrictions were relaxed or completely dropped, the popularity of cruise vacations has exploded. Unfortunately, as evidenced in current pricing on one of the most popular cruise lines, Royal Caribbean, their prices have exploded as well. Still, a cruise vacation is considered a good value because it's an "all-inclusive" vacation, meaning your lodging, meals, room cleaning, most beverages, and entertainment are all included in your cruise fare. And, as a bonus, cruise ships move, so add transportation to interesting and scenic destinations to the list of cruise benefits.
The best way to explain a modern cruise ship vacation might be to call it a "floating hotel." Many passengers actually forget they're sailing on ocean waters that are occasionally several miles deep because modern ship designs and stabilizer technology make the ride so smooth you can barely feel any motion.
Set sail on the sea of dreams, where every horizon leads to new adventures and unforgettable memories. Let the ocean's vastness inspire you to explore, relax, and rejuvenate. Here's to smooth sailing and starry nights, as you embark on a journey not just across the waters, but into the depths of joy and discovery. Bon Voyage!
Which Cruise Line is Best?
We get this question more than any other cruise vacation question. It's a difficult question to answer because there are so many variables. Tim and Felicia have status on most of the popular cruise lines, and have learned that with few exceptions, status is largely useless.
Although most cruise ships and cruise lines are very similar, each of the lines seems to focus on a different aspect of a cruise experience. For example, Carnival and Royal Caribbean seek to cater to families with young children, while Virgin won't allow passengers under 18 years of age. To help make sense of the comparison, Felicia and Tim made a video while aboard MSC Cruise's Meraviglia that compares cruise lines to common automobile makers. You can watch that here:
Cruiseline.com did a great job comparing cruise lines in this article. Bon Voyage magazine came up with this helpful infographic: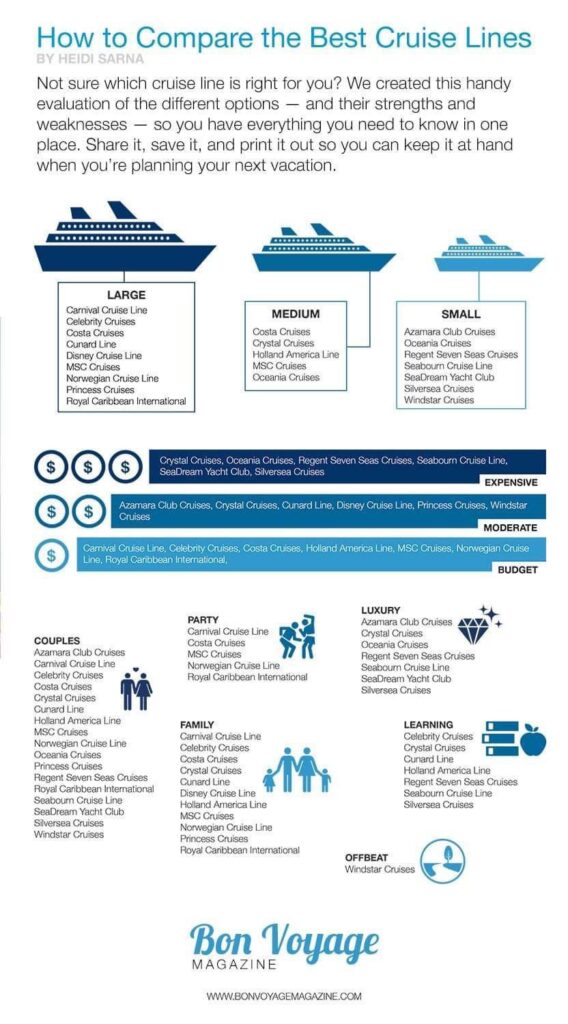 How Much Do Cruises Vacations Cost?
Two quick things to mention based on questions we've received on our social media boards.
Except for "specialty dining" at one of your cruise ship's upgraded restaurants, breakfast, lunch, and dinner are always included in your cruise fare. On most cruise lines, you can choose to participate in complimentary sit down dining for breakfast and dinner in an area called the Main Dining Room. Or, you can choose a more casual experience at the ship's buffet. Both are always included in your fare.
Once you've paid off your entire cruise about 90 days prior to sailing, there should be no additional fees charged to your room or account with one exception. If you've prepaid your daily onboard gratuities, you can leave the ship with a zero balance if you don't purchase anything outside of the complimentary meals, drinks, and services. If you didn't prepay them, you will probably see a charge of $14-$18 a day per passenger for those gratuities, and that can add up. You can ask guest services to remove those gratuities on many cruise ships.
You can cruise for as little as $100 a night on some off-season cruises, or even on an exciting trans-Atlantic repositioning cruise. Otherwise, the price of a cruise can run into thousands of dollars a day! Your cost depends on several factors.
How far in advance you booked your cruise. Early bookings usually get better deals.
The time of the year you want to cruise.
The total number of days you want to cruise. Most cruises run between 3-7 days.
The age of the ship. Newer, larger ships command premium pricing.
The class of room you choose. Inside rooms are the cheapest, suites are most expensive.
Here are some times when cruises are cheaper:
September/October: The weather is still warm, but most kids are back in school. This is the height of hurricane season, so consider that.
Wave season: From January through March, ocean waves tend to be a little rougher.
Between Thanksgiving and Christmas: Many people don't travel between these holidays, so cruise lines offer lower fares.
April through early June: Before the kids get out of school, you can find some good deals.
Additional Cruise Fees
There are some additional costs on cruises. Some are mandatory, others are optional. These may include:
Port fees: These are fees that are charged by the ports that your cruise ship visits. You typically pay for those in advance when booking your cruise.
Gratuities: These are tips for the crew members on the ship. Again, these typically range from $12-$18 a day per passenger. You can opt to prepay these so there are no surprises later. If not prepaid, they are typically added automatically to your room charges. You can choose to adjust them up or down, or even remove them in some cases.
Shore excursions: Tours and activities you take while your cruise ship is docked in port are not included and must be booked and paid for in advance or on the ship. You can, however, leave the ship at any port for free and walk around to shop or dine, paying only for what you buy in the port.
Drinks: Non-bottled water, coffee, iced tea, and some juices are included with most cruises. However, sodas and alcoholic drinks are typically not included in your cruise fare. You can pay for them individually, or you can purchase a drink package before or during your cruise.
Spa treatments: Spa treatments are not included in the cruise fare. You will need to pay for them individually.
Specialty dining: Although your meals are included when you dine in the main dining area or the ship's buffet, specialty restaurants, such as those with fine dining or themed menus, are typically not included in the cruise fare. You will need to pay for them individually.
Wi-Fi: Wi-Fi is not always included in the cruise fare. Most cruise ships offer convenient and affordable packages.
The cost of these additional expenses can vary depending on the cruise line, the itinerary, and the time of year. It is important to factor these costs into your budget when planning your cruise vacation.
How Can I Save Money on a Cruise?
Here are some helpful cruise tips to help you save money on additional costs on a cruise:
Book your cruise early. Cruise lines often offer discounts for early bookings a year or more out.
Choose a less popular cruise line or itinerary. MSC Cruises is currently less expensive than the more popular options.
Consider traveling during the off-season. Cruise prices are typically lower during the off-season.
Take advantage of free activities. There are many free activities available on cruise ships, such as swimming, sunbathing, and watching shows.
Will I Get Seasick on my Cruise Vacation?
Those prone to motion sickness in motion simulators at amusement parks, or in the back seat of a car, are most likely also prone to motion sickness on a cruise. Not gonna lie, sea sickness will ruin your whole cruise, and you can't get off the ship until the cruise is over. Whether or not you will get seasick on a cruise depends on a number of factors, including:
Your individual susceptibility to motion sickness. Some people are more prone to seasickness than others.
The weather conditions. Rough seas are more likely to cause seasickness than calm seas.
The size of the ship. Smaller ships are more likely to feel the effects of the waves than larger ships.
Your position on the ship. If you are in the lower decks, you are more likely to feel the motion of the ship than if you are in the upper decks.
Your activities on the ship. If you are active and moving around, you are less likely to get seasick than if you are sitting still.
If you are worried about getting seasick, or do get seasick on a cruise, there are a few things you can do to help deal with it:
Take motion sickness medication before you board the ship. "The Patch" is the most effective, but you'll need a prescription to get one.
Go to a place where you can see the horizon. Your equilibrium may normalize if your brain associates your body with motion.
Stay hydrated by drinking plenty of fluids. Avoid alcohol, which can dehydrate you and make seasickness worse.
Eat light meals and avoid greasy foods.
Get some fresh air and sunshine.
If you start to feel seasick, go to a quiet place and lie down. You won't feel sick when you're sleeping.
The good news is the newer, larger ships move less, so the motion is less noticeable, which may help some people avoid sea sickness. Even better news is there are medications that can completely block motion sickness. Tim explains how it works, its history, and potential side effects in this video:
Will I Be Bored on a Cruise Vacation?
It's almost impossible to be bored on a cruise, unless you try really hard. There are so many activities available on cruise ships at all times of the day, so almost anyone will find something fun to do. Here is just a small sample of what people on cruises can do:
Swimming: Most cruise ships have multiple pools, hot tubs, and even huge water slides that dangle off the ship.
Rides: Some cruise ships have slides, roller coasters, race tracks, zip lines, and more!
Eating: Cruise ships offer a variety of restaurants, from casual buffets to fine dining. Try a Japanese hibachi restaurant for fun entertainment while they cook.
Entertainment: Cruise ships have a variety of shows, including off-Broadway productions, comedians, Karaoke, tightrope walkers, contortionists, extortionists (casino dealers), and live music. To be honest, many of the shows on cruise ships are low budget and kind of hokey, but there are some surprisingly good ones.
Excursions: When docked in a scheduled port, cruise ships offer a variety of excursions including sightseeing, hiking, snorkeling, shopping, wave runner tours, Jeep tours, jungle tours with animal encounters, swimming with dolphins or stingrays, and so much more. These are billed in addition to your cruise fare.
Casino: Most cruise ships have casinos with tons of slot machines, Blackjack, Poker, Roulette, and countless other games. There are also large scale Bingo games held in atrium or theater areas.
Spa: Many cruise ships have spas where you can get massages, facials, and other treatments.
Fitness Centers: Cruise ships have fitness centers and walking/running trails where you can work out. Virgin has a boxing ring!
Kids/Teen Clubs: Cruise ships have kids clubs segmented by age where children can play and be entertained. Younger kids are supervised, teens may not be.
Miscellaneous Fun: There are ice skating rinks, laser tag games, escape rooms, rock climbing walls, and many of the fun attractions you might see in a tourist destination like Orlando.
Learn How To Relax! You're on Vacation!
If you are looking for a relaxing vacation, you can spend your days swimming, sunbathing, and enjoying the onboard amenities. If you are looking for a more active vacation, you can participate in the many of the daily activities you can find on the cruise line's daily schedule. And if you are looking to explore new places, you can take an excursion to a nearby island or city. No matter what your interests are, you are sure to find something to keep you entertained on a cruise.
Professional Cruise Tips
Here are some additional cruise tips to help you make the most of your experience:
Plan your activities in advance. This will help you make the most of your time and avoid wasting it on activities that you are not interested in.
Be open to trying new things. There are many activities available on cruise ships that you may not have tried before.
Don't be afraid to socialize. Cruise ships are a great place to meet new people and make friends.
Take advantage of the onboard amenities. There are many things to do on a cruise ship, so don't just stay in your room all day.
Are Cruise Vacations Safe?
We've sailed on over 50 cruises, and despite the stories of the Titanic and Costa Concordia, and even our run-in with Covid caught during our Carnival Mardi Gras cruise, we still feel cruising is as safe as any other all-inclusive vacation. We created the following video plus a blog post that talks about this. https://www.freshandfelicia.com/are-cruises-safe/
Here Are Some Helpful Cruise Tips to Help Stay Safe
By following these helpful cruise tips, you can help to ensure a safe, enjoyable, and memorable cruise vacation.
Stay hydrated by drinking plenty of fluids. Even the alcoholic kind. There's actually lots of water in those too.
Wash your hands frequently with soap and water. When you go to the buffet, get your food, then wash your hands again before you eat.
Avoid contact with people who are sick. If someone is hacking up a lung in the elevator, hold your breath or cover your face as best you can. Being embarrassed in front of a selfish person for ten seconds is better than being sick.
Do not eat food that has been left out at the buffet. It'll look dried out and burned. Wait for a fresh refill. They all refill frequently.
Always be aware of your surroundings. Pickpockets, con artists, unconvicted criminals, sexual assaulters, bullies, and other bad people cruise too.
Don't leave valuables laying around in your room or by the pool. Keep them hidden on your person, or in your room safe.
Take precautions to avoid falling overboard. Don't worry, it's nearly impossible to fall overboard… unless you're a complete idiot. Apparently, Darwin runs rampant on Carnival Cruises.
Follow the safety instructions and tips given by cruise employees during the mandatory muster drill on boarding day.
Here's a quick video of Tim Cruise tooling about Nassau, Bahamas after being warned it's a very dangerous place. Spoiler: if you stay within the popular tourist areas, it's absolutely safe.
Should I Buy Cruise Vacation Insurance?
Whether or not you should buy cruise insurance depends on your individual circumstances and risk tolerance. Here are some factors to consider:
The cost of the cruise. The more expensive the cruise, the more you have to lose if you have to cancel or your trip is interrupted.
Your health. If you have any pre-existing medical conditions, you may want to consider insurance in case you need to see a doctor while on your cruise.
Your travel history. If you have a history of canceling trips or having medical problems while traveling, you may be more likely to need insurance.
The cruise line. Some cruise lines offer their own insurance plans, which may be cheaper than a third-party plan.
Here are some of the things that cruise insurance typically covers:
Trip cancellation or interruption
Medical expenses
Baggage loss or delay
Emergency travel assistance
Missed connections
Pre-existing medical conditions
Cruise ship cancellation or delay
Terrorism
Personal liability
Tips For Buying Cruise Insurance
It is important to read the fine print of any cruise insurance policy before you buy it, so that you understand what is and is not covered. Additionally, you should also make sure that the policy is from a reputable company. If you are unsure whether or not you should buy cruise insurance, it is always best to talk to a travel agent or insurance agent. They can help you assess your individual needs and recommend the best policy for you.
Here are some tips for buying cruise insurance:
Shop around and compare policies from different companies.
Read the fine print carefully and make sure you understand what is and is not covered.
Buy your policy as soon as you book your cruise, so that you are covered for any unforeseen events.
Cruise insurance can be a good way to protect yourself from financial losses in case of an unexpected event. However, it is important to weigh the cost of insurance against the likelihood of needing it. If you are healthy and have a good travel history, you may not need insurance. But if you are concerned about the possibility of cancellation or medical problems, then insurance may be a good option for you.
Find More Cruise Tips on our Socials
We hope you enjoyed these cruise tips! Let us know in the comments or on our socials if you have any tips you would like to share, or any questions you'd like to ask for the next cruise tips video. We've got a growing library of cruise tips videos on this blog here.
Here's where you can find us:
YouTube: Cruise Tips at https://www.youtube.com/channel/UCLft-tiY0GIgaHuDWEcyQeA
Facebook: Pro Cruise Tips at https://www.facebook.com/ProCruiseTips/
Instagram: Pro Cruise Tips at https://www.instagram.com/procruisetips/
TikTok: Pro Cruise Tips at https://www.tiktok.com/@procruisetips