Beginning November 16, 2023, the MSC Seashore cruise ship will move stateside from Europe and begin sailing from her new home port at Port Canaveral, Florida. Port Canaveral has recently edged Port of Miami to become the world's busiest cruise port.
MSC Seashore entered service in 2021 as MSC Cruises' first Seaside-class EVO ship (EVO supposedly stands for 'evolution'). Seashore is larger than MSC's former Port Canaveral based cruise ship, MSC Seaside, with 20 decks, 2,270 cabins, and a passenger capacity of 5,877. Seashore has a gross weight of 169,400 tons, making it one of the world's 20 largest cruise ships. With the increased cruise passenger traffic at Port Canaveral, MSC decided they needed to increase capacity.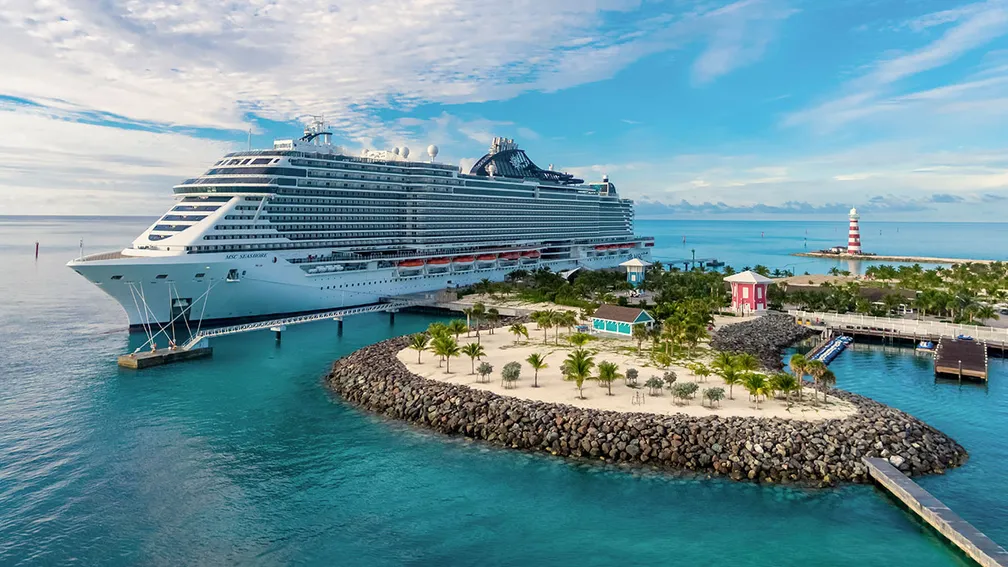 MSC Cruises, spawned from the world's largest freight shipping company and now privately owned by billionaire Gianluigi Aponte and his family, is headquartered in Geneva, Switzerland. MSC is the world's fastest growing and fourth largest cruise brand. With 23 ships expected by 2025, it is already a cruise ship industry leader in Europe, South America, the Persian Gulf region and southern Africa. MSC Cruises is now growing a strong presence in the Caribbean, North America and the Far East markets. Five MSC ships will sail from U.S. ports in the 2023-24 winter season, including three from Miami — the Divina, the Magnifica and the Seascape. The Meraviglia currently sails from New York City and has a port stop at Port Canaveral during some itineraries.
"MSC Seashore takes everything our guests love about the iconic Seaside class of ships and turns it up a notch," said Rubén A. Rodríguez, President of MSC Cruises USA. "The ship is bigger, and it's full of redesigned amenities from the pool deck down to the lounge and theater." Seashore highlights include the line's largest MSC Yacht Club, their dedicated VIP suite area, as well as the biggest children's spaces in the fleet. But the most noticeable difference to any cruiser who has sailed on Seaside previously might be improvements to the ship's repositioning of several venues. The flow seems to be more logical with respect to specialty dining and other attractions.
Tim and Felicia have booked a Yacht Club suite during the inaugural Port Canaveral sailing on November 16th, and will report their findings along with a complete review of MSC Seashore here and on their YouTube channel, Cruise Reviews.
About MSC Seashore
Seashore represents further evolution of the company's Seaside class, which debuted in 2017 with a design aimed at "connecting guests to the sea" with a large outdoor promenade that's closer to the ocean. Many of MSC Seashore's public areas have been reimagined from the original Seaside design, resulting in nearly 140,000 square feet of outdoor space with more opportunities to sip on a refreshing cocktail in one of the outdoor bars, relax in an outdoor hot tub, or my favorite activity, disconnecting and soaking up Caribbean sunshine.
Seashore will present American customers with a "New York" theme accented by often tacky Italian design elements in the form of gold accents, crystal staircases, and vintage Italian posters. Think Tony Soprano and a 1980s-era Atlantic City casino. Our Italian friends from Livorno tell us authentic Italian design is much more subtle, but we get the gist. Ironically, MSC ships do not offer an Italian specialty dining option like Carnival's Cucina Del Capitano or Royal Caribbean's Giovanni's, although there is usually an "Italian Night" in the main dining room. To be honest, we've always thought a cruise ship might be a huge opportunity for a well-known Italian-American franchise for American customers looking for familiarity.
There will be other international flavors as well. We loved the line's signature pizza on Seaside, and we were super happy to see the return of Hola! Tacos & Cantina (not on Seaside) and their potent margaritas and incredible salsa flights. Don't miss game changing teppanyaki meals and the always delicious Kaito Sushi Bar. Specialty dining is not included in the base cruise fare, but it's reasonably priced. We rarely visit any main dining room and opt for specialty dining.
MSC Seashore Entertainment
Sadly, the entertainment fare appears to resort to the more European cabaret style drivel we suffered through on MSC Seascape, which Tim aptly compared to "budget-conscious retirement home entertainment." Expect to nap through uninspired singers and dancers churning through what seems to be a random selection of music MSC Entertainment Director Steve Leatham's staff erroneously thought might have been well-known American hits. We are sincerely hoping we are wrong.
MSC Seaside's claim to fame was a strange but very entertaining show called The Adventures of Peter Punk, followed by a breathtaking Michael Jackson lip sync and dance routine called Michael. Those were two of the best cruise shows we've ever seen, inspiring a return visit that didn't disappoint.
Seashore also shares cabaret-themed venue. On Seascape, the Cher tribute and rock n' roll violinist shows we saw at their cabaret were sadly pathetic.
Ocean Cay
All MSC Caribbean-based sailings visit MSC's private island, Ocean Cay, one of our favorite Caribbean destinations. Still unspoiled without large swim-up bars and a $99 waterpark we could visit in Orlando, Ocean Cay is much more serene, relaxing, and naturally beautiful.
Highlights of MSC Seashore
One of the largest and most luxurious MSC Yacht Clubs in the fleet—the all-inclusive 'ship within a ship' concept providing guests with a premium cruise experience, private amenities, and 24-hour shared butler service.
Eleven different types of staterooms and suites with balconies including aft suites, 50 terraced suites with extended balconies, and 32 suites with private outdoor hot tubs.
Six swimming pools, including an "interactive" Pirate-themed waterpark and a redesigned aft Infinity Pool, as well as two infinity hot tubs.
Five specialty restaurants in the redesigned Chef's Court on Deck 8 with two elegant bars, plus al fresco dining available at MSC Cruises' Butcher Cut steakhouse located on the waterfront promenade.
The exclusive Top 19 Solarium for Aurea guests with its own outdoor lounge area and bar. Yacht Club guests can usually sneak in here.
The largest kids' area in the fleet with 7,500 square feet of space featuring a space and planetary exploration theme.
Entertainment options including a main theatre, a cabaret show venue, a slightly larger casino, and a sports bar.
MSC is one of five cruise lines sailing from Port Canaveral, the world's busiest cruise port. Stay tuned for our complete review of all American-based MSC Cruise ships.