We cruise several times a year, so we've learned many ways to save money on cruise vacations. If you're short on cruise ship status points or don't have enough casino cred to get free room offers, no worries. There are other ways you can save a considerable amount of money on your next cruise. And for the first time ever, Felicia and Tim are sharing their top ten favorite money saving cruise tips. In theory, if we applied all these savings to our upcoming Icon of the Seas sailing in January 2024, we could have saved over $7,000 on that one cruise! Don't spend it all in one place!
10. Book Early
Early birds get the best deals – usually. We booked a cabin on the largest cruise ship on earth, Royal Caribbean's Icon of the Seas, about a year in advance. Turns out we scored big savings. For our 7 day inaugural cruise, we paid $7,688 for two of us. To book the same room with the same options two months out, it was up to $12,777. We saved $5,089 by booking early, and we got a better choice of rooms.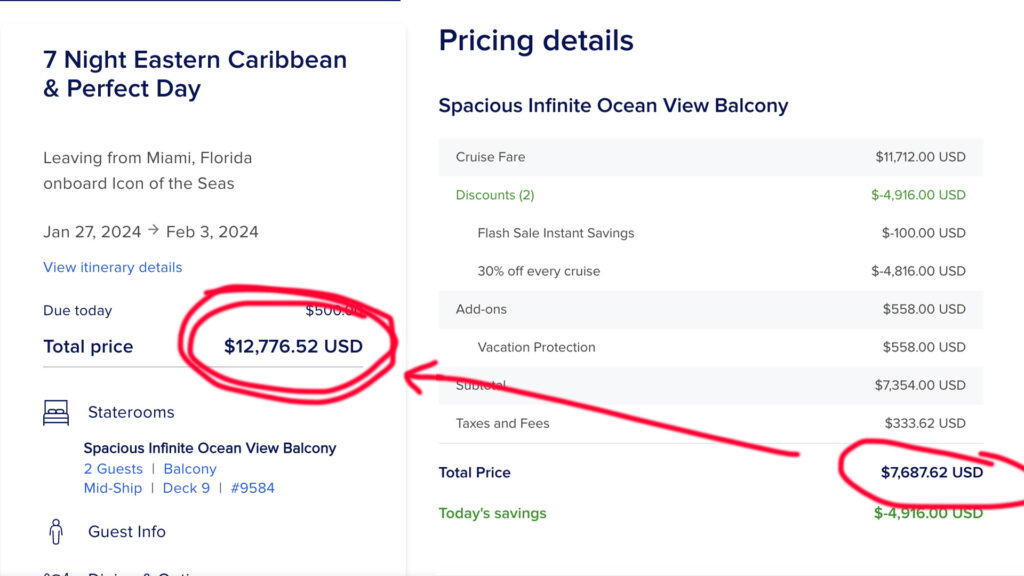 Booking Icon of the Seas a year early versus booking two months prior to the cruise.
In the old days, cruise prices could actually drop if demand was low, and the cruise lines wouldn't tell you about the fare change. Don't look for that to happen today. Cruising is booming and it's not unusual for cruises to sell out months in advance.
9. Book Off-Season
Spring break and summer time are the most expensive times to book cruises because the kids are out of school, and families have recognized cruising is a wonderful all-inclusive, money saving vacation. Since many of those lazy, snot-nosed boogie pickers will be relieving themselves in the public hot tubs, it's probably not the best time to cruise.
Pricing is driven by supply and demand. Since the booger-eaters are back in school, there are less families cruising. September through February seem to be the best times to cruise if you're looking to save some cash. Plus, it's cold in much of the country, so an adults-only trip to southern latitudes during that time of year is always a pleasant escape.
8. Book an Inside Room
We booked a cruise on one of Royal Caribbean's oldest ships to try and remember what it was like during the old days, in the early 2000s, when we started cruising. We went Full Monty and booked an inside room for the first time in 20-some years. After growing up a little and finally graduating to the suite class on most ships, our full 7-day return to a tiny inside room wasn't as kitschy as we had hoped. Nonetheless, it made for some very interesting video.
Since inside rooms take up less space, many older ships have a large inventory of inside rooms available. More supply and less demand usually leads to lower prices.
There are actually some benefits to inside rooms that some seasoned cruisers prefer. Since there are no windows in inside rooms, they're much darker. Some folks report they can sleep better. And since inside rooms aren't heated by thermal energy that enters a balcony room through loose seals or the door glass itself, inside rooms are usually a few degrees cooler.
Newer megaships are attempting to create inside balcony rooms that overlook pools or activity areas as alternatives to ocean-front balcony rooms, so you'll notice that trend as inside rooms become fewer. Inside balcony rooms can also save you some money but they have less space and are less expensive.
7. Room Guarantees
If you let the cruise line pick your room, you can save a little cash. They might put you in a room with a slightly obstructed view, like behind a lifeboat. You might be on the starboard side of the ship where you can't look over each of the ports you visit. Your room may be directly under a busy area like a nightclub or a restaurant where there's lots of noise above you. Or you might be stuck on a lower floor towards the front or rear of the ship where you may be more susceptible to engine noise or ship motion.
Or, your room might be perfectly located if space allows.
Honestly, your room's location is no big deal unless you spend your entire cruise in your room. And then you're probably doing something wrong. Even in an inside room at the worst location, you can always find a comfortable place with a view somewhere on one of the higher decks during the day or in the evening. You'll only need to sleep and bathe in a poorly located room.
Savings aren't big – we're talking usually less than $100 per room.
6. Dine Only at the Buffet or Main Dining Room
Dining at the buffet or in the MDR (main dining room) is included with most major cruise lines at no additional charge. In our experience on Royal Caribbean, Carnival, Celebrity, Princess, Virgin, Norwegian, Disney, and MSC Cruises, the MDR and buffet usually offer a wide variety of pretty decent food.
There are specialty restaurants on most cruise ships including ritzy steak houses, Japanese hibachi and sushi restaurants, seafood restaurants, Italian restaurants, sports bars and other eateries that will charge you extra. You can purchase a specialty restaurant package in advance to save some money on most cruise lines. If you're a picky meat and potatoes person who is very particular about your food, you will probably be disappointed with the buffet and MDR offerings and might want to opt for specialty dining.
5. Drink Packages, Carry-On Wine, and Duty-Free Liquor
Even with pre-cruise pricing of about $85 a day per person, and that supposedly includes a 50% discount on the second guest, most non-alcholics will have to stretch to take advantage of the savings it offers. There are also soda packages, packages that include specialty coffee, and prepaid water packages too.
With average domestic beers at about $7.49, you'd have to drink a 12 pack – every single day – to be ahead of the price curve. That is a lot of beer for most responsible adults. It's a little more realistic with cocktails or shots ranging an average of $8-$14, but still, you'd need somewhere between 8 to 11 mixed drinks, or a combination of those with wine, beer, sodas, and specialty coffees to achieve parity.
For some folks who like to party, the drink package is a no-brainer. You could save a small fortune by opting for the drink package. Be honest with yourself and do the math to see if the numbers work out for you.
Some cruise lines (I'm looking at you, Carnival, Princess, and Holland America) tap out with their 'unlimited' drink packages at 15 drinks per day. That's not really unlimited. We have tested and verified that Royal and MSC are truly unlimited on our YouTube channel.
Many cruise lines will allow you to bring one or two bottles of wine per person on your cruise. Better bring your own corkscrew to avoid a $15-$50 "uncorking" fee in some of the dining areas. It's best to pour yourself a glass in your room and carry just the glass, and not the bottle, to dinner.
Some clever folks have figured out how to replace the wine in a wine bottle with their favorite hard liquor, using a resealing kit you can purchase on Amazon. We may or may not have witnessed an illegal smuggling of a certain brand of tequila on to a certain cruise ship that worked flawlessly. For those ships that allow carry-on wine, never pack it in your luggage, or it will be confiscated. Always place your wine in your carry-on luggage.
On Royal Caribbean cruises, cruisers with Diamond or higher status (70 or more nights spent on a Royal Caribbean ship) get a nice perk. RC gives Diamond level cruisers four complimentary alcoholic drinks per day. To be honest, on our last cruise, that was all we needed for complete happiness. Plutonium level cruisers (really called "Pinnacle') get up to six drinks a day. That's one of the few cruise loyalty perks that are actually worthwhile.
One more thing. If you buy liquor onboard at the ship's duty-free store, wait until the last day. There's no official maritime requirement for this policy, but most cruise ships will hold your liquor until the last day of your cruise. If you buy liquor on the last day, you can usually take it with you and enjoy it immediately. Factor that into your drink package equation and subtract one day as you replace the heavy markup with your much lower cost. You may still need mixers, but if you're the shots-only kind of person, you just scored a super affordable drink day.
4. Pack Well (Tylenol, Sunscreen, Toothbrushes, Deoderant)
Other than Virgin Cruises and its cornucopia of battery operated appliances for the personal pleasure of adults – and its strange lack of toothbrushes – most cruise lines have a convenience store onboard. Yes, the prices are jacked up but not to an extortionist level. Look, things happen. One cruise we were on stopped in San Juan, and I couldn't believe the hundreds of cruisers I recognized who made a beeline to the local Walgreens.
To save some cash, bring your own toothbrushes, deodorant, Dramamine, and, well, your own battery operated pleasure appliances. Felicia made a wonderful video that shows what to pack to ensure you won't be shaken down at the ship's corner store or at a San Juan Walgreens.
3. Skip The Excursions
There are dozens of paid excursions at every cruise port available to cruisers. You can rent jet skis, swim with dolphins or stingrays, experience lush tropical scenery and waterfalls, or simply take a guided tour of a place you've never been. Or, you can get off the cruise ship and tool about the cruise port or a little further on your own.
The truth is, once you've done the excursion and seen the sights, they rarely change. So see it once, if you can swing it. Then save hundreds and stay on the ship, or get some exercise walking around the secured port area for a bit.
One of our favorite ports is Cozumel. We've been there about 20 times and done all the excursions, so no need to see them again. These days, we'll poke around the local drug stores to see what we can buy legally in Mexico, just because that's interesting. We then head over to Senor Frog's and drop a few bucks for a ridiculously fun party that involves antics that might be illegal in the states. We no longer leave the port area.
2. Unplug
WiFi is available on most cruise ships now if you need to work or stay in touch with the fam. But don't if you don't have to. Lock your phone in your room safe and enjoy not being hounded by everyday things. You'll save upwards of $200 per person on a seven day cruise.
And don't forget to put your phone in AIRPLANE mode the moment you leave the port, or you could end up with an exorbitant cell phone bill next month. We've seen it happen.
1. Remove Daily Gratuities From Your Room
One way to save money on cruise vacations is to go to customer service and ask them to remove the automatic daily gratuities from your room charge. Most cruise ships will do this without blinking.
This is extremely controversial for a number of reasons, but could save you upwards of $200 per room on your cruise. Daily gratuities are billed daily and per passenger. Most cruise lines will allow you to remove the automatic gratuities from your daily room charge. Some large families just can't swing those additional fees, and we completely respect that.
Here's the thing: A portion of those gratuities supposedly contribute to the salaries of crew members you never see who work behind the scenes. Think dishwashers, dining room assistants, laundry workers, and other hard working people who work 12 hour days for a fraction of the hourly rates and none of the labor protection most Americans and Europeans take for granted.
But recently, there's been some suspicion on Reddit boards that those tips don't always flow down to those crew members. On MSC cruises, the gratuities are billed as "hotel service charges." Some believe these fees may actually contribute to corporate profit since they're technically not classified as "gratuities."
We've since decided to remove one of our two automatic daily gratuity charges from our room, and tip directly. Our room attendant gets a few pics of Ben Franklin. Same with our favorite waiter, our favorite bartender, and random workers we see doing nice things around the ship, many who may have never received a tip. Yes, we might miss sharing the wealth with some of the hard working people in the kitchen or in other places behind the scenes. Our rationale is there's a better chance the people we do tip might do the right thing better than an unchecked corporate entity.
On Facebook, we've noticed a large contingent of grandmotherly folk firmly believe gifting a bag of stale Halloween candy it to room attendants is appreciated instead of tips. After staff was introduced to the risk of tainted food, many employees we've talked with smile widely and secretly toss the grandma candy into the trash. Cash is king. They can't send candy home.