The Hollyland Lark MAX is Hollyland's latest wireless lavalier microphone system. We've used the original Hollyland Lark for a few years on our YouTube channels, but the upgrades included with Lark Max make them the best budget wireless microphone system on the planet.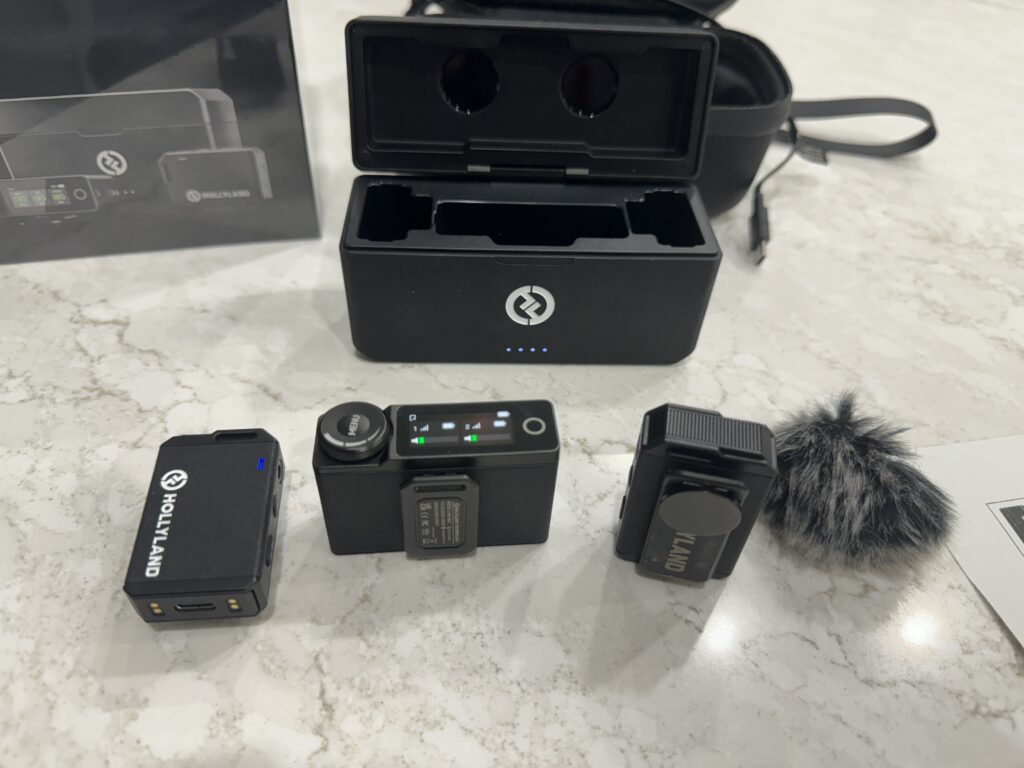 The Lark MAX is available in the two transmitter system we have, the Duo. This makes it perfect for one-on-one interviews. MAX is also available in a Solo version with one transmitter and one receiver. Yes, you can use the Duo with one transmitter when you need to, but the flexibility of two is important to many content creators like us.
If you have an iPhone, you no longer need TRS, TRRS, USB, or Lightning adapters! Since USB-C and Lightning are supported natively with the MAX receiver, it's plug and play. If you're still using a camera with a 3.5mm jack, that's there too. Lark Max works with Macs, PCs, iPhones, and iPads. I don't have any Android devices, but I imagine most of those work as well. All the cables you'll ever need are included in the box.
And – the most important feature – no need to use headphones or disconnect Hollyland's Lark MAX from your iPhone or iPad to review sound. Through some miracle of science, Hollyland's engineers figured out how to allow speaker sound to pass through even though Lark MAX is recognized as the microphone. GENIUS!
We own the DJI and Rode wireless sets, but we think Hollyland Max's range, features, and sound are better. The menu is a dial with an AMOLED touch screen, and it's super intuitive with a round 'home' button if you get lost in menus. For those situations where there's too much interference, Hollyland figured out a clever workaround — the transmitters can record onboard for up to 14 hours each. Transfer and sync later using USB-C, and you're golden. Lark MAX makes my job easier and my gig bag lighter, and for me, that's a double win.
But how is the sound? The onboard omni-directional mic will record 20Hz to 20kHz at 48kHz with 24-bit bit depth, 70 dB SNR, and 128 dB max SPL. You won't be able to mic instruments or drums with Lark MAX, but that's not what they are meant to do. If you opt for the upgraded package, there are two Hollyland omnidirectional TRS lav mics included. They're full range at 20Hz to 20kHz, and they sound pretty good indoors. Furry kittens are included for the transmitter mics and the optional lavs.
Hollyland's Lark MAX uses something called a MaxTimbre mic and ENC technology to provide clear audio in noisy environments. TBH, I had to Google "MaxTimbre." It's a sensitive, multilayer, membrane microphone design that optimizes voice recording. The multilayer acoustic structure does a pretty good job eliminating unwanted resonances, and the mesh provides wind and vibration-isolation.
There's also switchable ENC, Environmental Noise Cancellation. Blue LED is true sound, and the green LED indicates your mic is filtering ambient noise. We, like most pros, use blue and remove unwanted noise in post. Once it's gone, it's gone, and you never know when you might want that background noise in your finished project.
And this is cool. There are two modes of recording. You can choose mono for voices, or stereo for a more realistic environment. And there's a 'safety track' setting that records at an undisclosed lower rate (probably somewhere between -6 to -10dB) just in case your gain gets a little hot. There are also onboard EQ settings, Hi-Fi, Low Cut, and Vocal Boost. I haven't toyed with those yet, but I can see how these could be handy in certain situations.
Specs say Lark MAX can reach an ultra-long range up to 820 feet line-of-sight. This isn't a common situation, but the long range can be useful for wider shots like landscape backdrops or sports interviews where a smartphone camera doesn't have the glass to capture the wide shot you want. Due to the price point, I assume Hollyland used the popular 2400MHz–2483.5MHz band for their GFSK transmitters. More isolated UHF and VHF offerings can range into the thousands of dollars.
We did an unscientific range test in our busy Central Florida residential neighborhood. We found that at about 300-ish feet, we encountered brief voice interference from some sort of communication device, probably a 2.4GHz home telephone. Ironically, continuing another 100 feet or so further, the transmission was perfectly clear. In an uncrowded area, I can see how Lark MAX could easily reach the promised distance, and maybe even a little more.
A few more really cool features of Hollyland's Lark Max include the rare-earth magnets that firmly grip the spring-loaded clips on the back of the transmitters, allowing the freedom to place the mics where you couldn't conveniently clip them. The clips on both the transmitters and receiver are cold-shoe mountable. One con I noticed is that when recording with my iPhone, there's nowhere to attach or connect the receiver unless you're using a cage.
The Lark MAX ships with a compact charging case that charges via USB-C. The transmitter's operation time is about 7.5 hours and can reach up to 22 hours with a fully charged charging case. The receiver can operate on battery for up to 9 hours, and although I haven't tried this yet, Hollyland says the receiver can be charged and used at the same time. That's seriously next level! There's also a semi-hard padded carry case for your mics (while stored in the charging case) with room for a short cable or two.
The Lark MAX is a great choice for anyone looking for an affordable yet high-quality wireless microphone system that is easy to use. It is perfect for interviews, vlogging, podcasting, and even electronic field production. We're considering ditching the boom and using these on our next independent film.
Now available on Amazon here (affiliate link): https://amzn.to/46BHZhr