Felicia and I do a lot of work with cutting vinyl, cardstock, and thin wood using our several Cricut and Silhouette machines that we sell on our Etsy store and at craft fairs all over Florida. We have noticed the growing popularity of laser cutters and engravers for some time. When xTool reached out about their xTool M1 Smart Laser Engraver and Vinyl Cutter, we were super excited to give it a try to take our crafting experience and Etsy store products to the next level. We are still amazed with what we could create just a few hours after unboxing it. Check out our xTool M1 review on YouTube below:
Why Is Everyone Talking About the xTool M1?
There is a lot to like about the xTool M1. First, it obviously performs laser engraving and scoring on wood, cork, some metals, and ceramics. It can also cut many woods materials up to about 7mm in thickness (just under 1/4 inch). We have never been able to cut anything that thick before! Our 10 Watt diode laser version opens up a world of possibilities of cutting, engraving and scoring basswood, thin plywood laminates, glass, acrylic, and even stainless steel. Diode lasers don't have the applicable wavelength or power to etch clear glass or clear acrylic. You can, however, coat clear glass or acrylic with water based paint or other non-flammable materials, and they'll engrave wonderfully. Diode lasers can engrave most metals, but they cannot cut metal.
Being established in the Christmas ornament and keepsake businesses with primarily wood and acrylic products, we feel the capabilities of the xTool M1 Smart Laser Engraver and Vinyl Cutter will bring us to the next level. We havel already greatly expanded our Etsy and craft show offerings!
The cutting area of the M1 is 15″ wide x 12″ tall. This is a little smaller overall than the Glowforge Basic and Plus models, but a few inches wider than a Cricut. it's plenty of room for most home-user projects. For larger projects, there's always screws or glue. Industrious makers always find a way.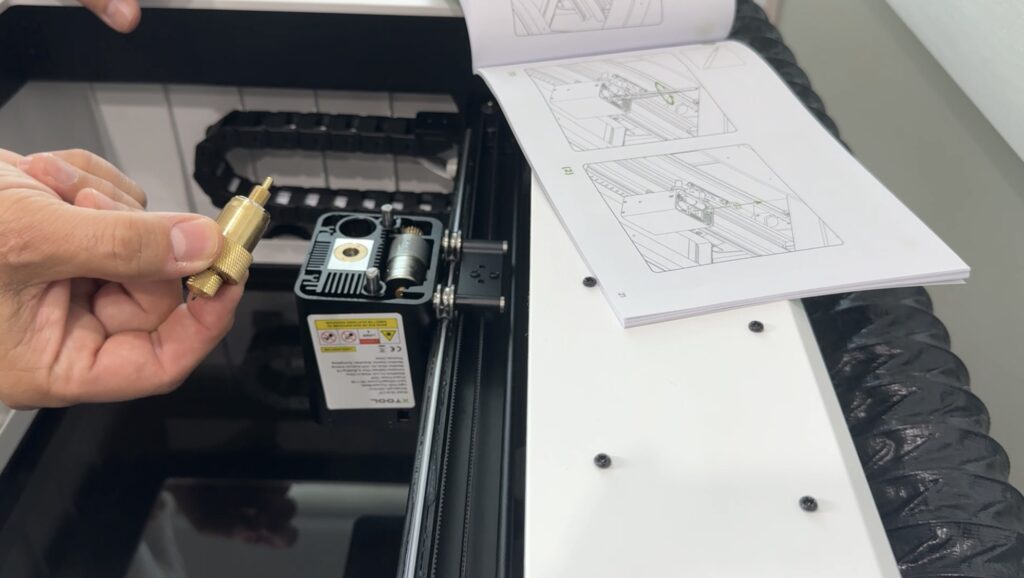 We were completely shocked to learn the xTool M1 also comes standard with a rotary cutting blade that's perfect for making very accurate cuts on paper, cardstock, vinyl, and even fabrics. Most popular cutting machines like Cricut's Joy Xtra use a blade that drags across the cutting area. Rotary cutting blades are only found in Cricut's $400 flagship Maker cutting machines. It's amazingly convenient to have a laser cutter and a rotary blade in one multifunctional cutting machine.
What Kind of Laser is in xTool M1?
The xTool M1 uses a diode laser. Warning: mild techy talk approaching here. We wanted to know if the M1 would cut transparent aluminum, but we'll save that discussion for another time. We promise to keep it top-level.
About xTool M1's Diode Laser
Diode lasers have a wavelength range of 550 nanometers to about 950 nm. Diode lasers can cut and engrave wood, where fiber lasers might just burn it. Some of the differences are due to power, some are due to the laser's wavelength, and some are due to the accuracy of the laser beam. A diode laser uses a semiconductor material to produce a fairly accurate laser beam that enables the machine to cut and engrave a wide variety of materials. The xTool M1 has a .008mm compressed laser spot diameter and an engraving precision of 0.01mm. For most crafters cutting wood and acrylic, this is more than accurate enough. Diode lasers have a longer lifespan and are more affordable than some other types of lasers.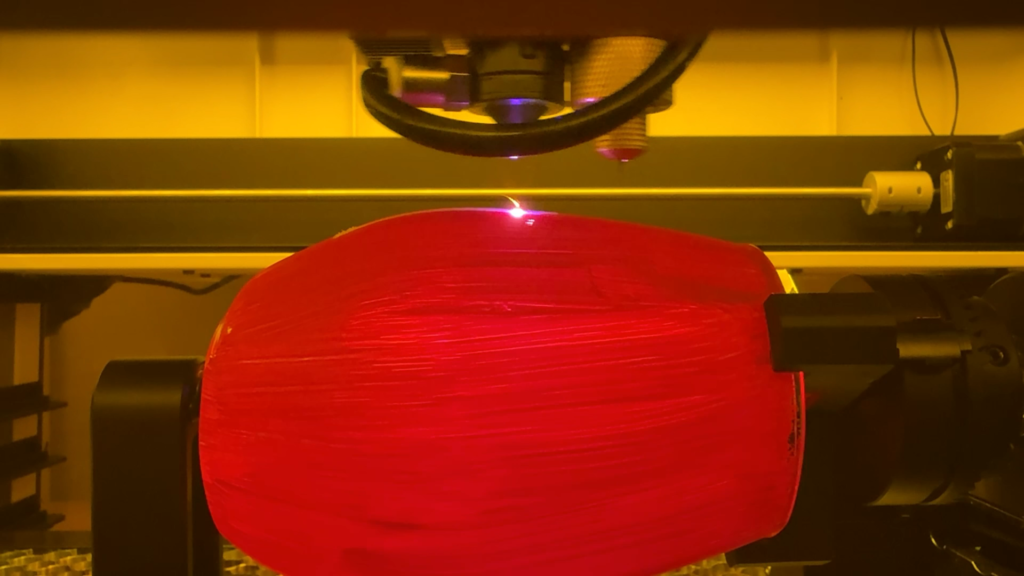 Currently, there are two different models of the xTool M1. One has a 5 Watt diode laser and another with a 10 Watt diode laser. Both models have the same size footprint and can cut or engrave the same size materials. A 10-watt laser engraver is slightly faster and can a cut a little deeper than the 5-watt model, resulting in finishing projects faster. For example, a 5-watt laser might take six minutes to make a cut with six passes, while a 10-watt laser might only take four minutes with four passes.
Are Other Lasers Better?
What's up with fiber and CO2 lasers? Are they better? Well, that depends on what you plan to do with it. Here's the skinny.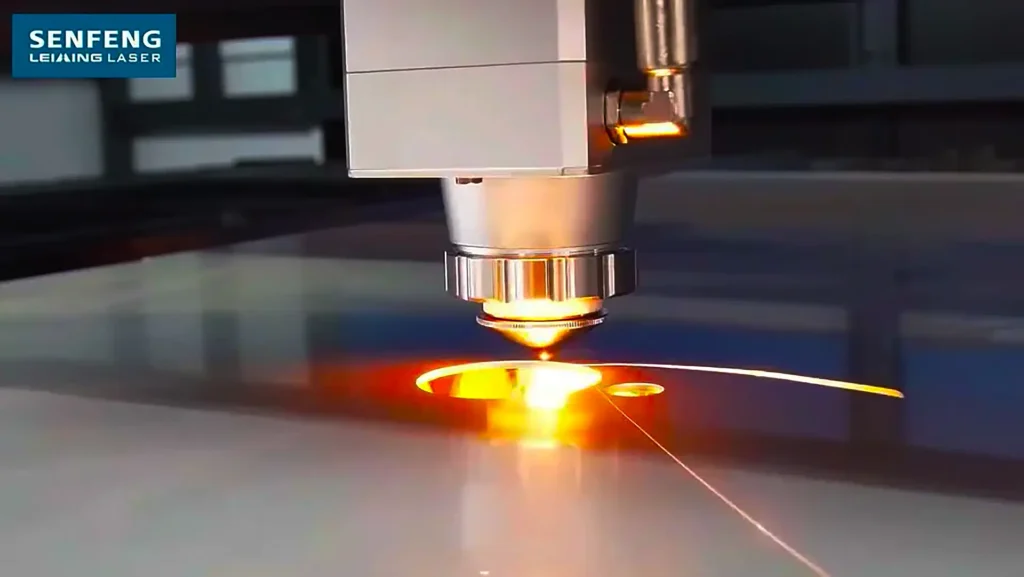 Fiber Lasers
A fiber laser uses a much more accurate fiber-optic source and a wavelength of typically 1064 nm, the best choice for cutting and engraving metals. However, fiber laser cutting machines are too powerful to cut real wood or MDF including fiberboard, wood fiber, plant fiber, and some resin materials. When the beam travels into wood, its absorption can't be controlled. Heat builds up, and eventually the wood will ignite. That's not a good thing unless you're a pyromaniac.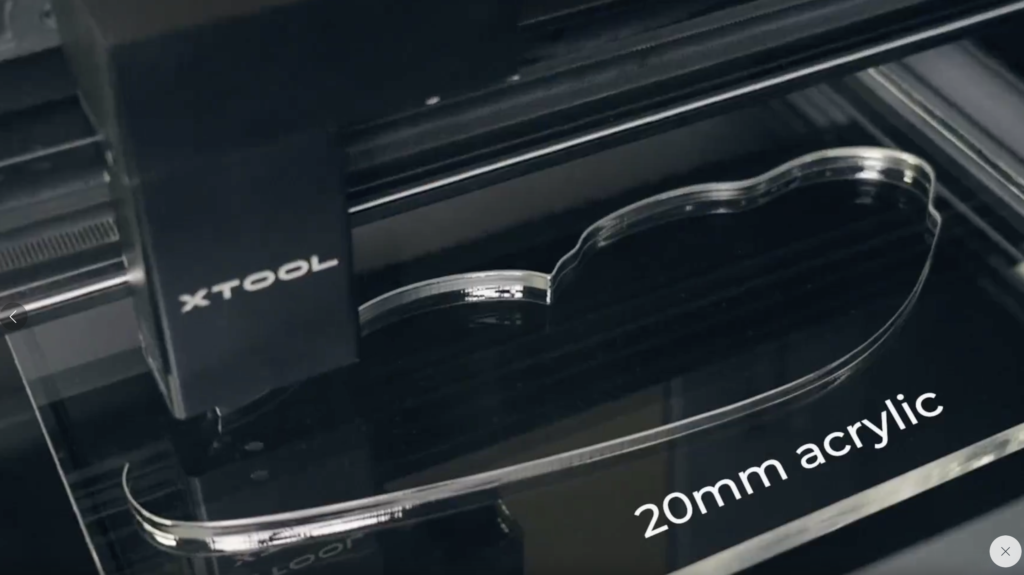 CO2 Lasers
CO2 (carbon dioxide) lasers are used in the medical field to help reduce the appearance of scars on skin stimulating collagen production that helps tighten and smooth out the scars. Using a stream of CO2 gas stored in replaceable cylinders, the CO2 gas is vibrationally excited by a nitrogen collision (not important to remember, there won't be an exam) allowing these lasers a little more molecular oomph to easily cut and engrave a broader range of materials. As a result of their 9,000nm to 11,000nm wavelength, CO2 laser engravers work on almost all non-metals.
A CO2 laser can cut wood, plywood, acrylic, glass (including clear acrylic and glass, something diode lasers cannot do), foam, cardboard, leather, plastics, certain fabrics, rubber, paper, Corian, and MDF. CO2 lasers can engrave clear glass and acrylic, wood, leather, plastic, fabric, rubber, brick, ceramics, bone, and coated metal. Due to the additional tech involved, CO2 lasers are more expensive than diode lasers. xTool offers a very cool CO2 laser called the P2 that sells for about $4500. We hope to test that machine on some super thick clear acrylic in early 2024. Yes, it's on Amazon here: https://amzn.to/3uQuZH6
How Long do Lasers Last?
Nothing lasts forever. Lasers do have a finite lifespan before they wear out. The lifespan of fiber lasers is the best with an expected lifespan of about 100,000 hours. But the upfront cost is relatively high. Diode lasers come next with an expected life of 25,000 to 50,000 hours. The lifespan of CO2 lasers is the lowest, lasting somewhere between 5,000 to 8,000 hours. Keep in mind those hours are actual laser use time. You'd have to cut 24 hours a day, 7 days a week for nearly a year straight until you'd burn out your CO2 laser.
What's In The xTool M1 10 Watt Laser Box?
In our xTool M1 review video, in addition to our setup and first project demonstration, we show what is in the box of the xTool M1 Smart Laser Cutter and Engraver 10W Deluxe machine:
M1 10W Smart Laser Cutting Machine
Black 4″ exhaust pipe with a spring clip
110V power cord with an external DC adapter that connects to the machine
6′ old-school USB-A cable
6 "triangular prisms" (3-sided black, hollow, metal triangle-shaped rods used to elevate things you want to laser cut)
4 wood risers (to elevate the machine for engraving taller things like tumblers)
The RA2 Pro rotary kit (for automatically turning tumblers or cylindrical objects while engraving)
A magnetic brass-colored blade housing with 5 replacement blades (attach this underneath, right next to the laser lens)
Light grip and heavy grip cutting mats
xTool basic materials pack, including:

Sample permanent adhesive vinyl
Sample faux leather sheets
Sample sticker paper
One piece of 3mm thick laminated basswood
One engravable stainless steel dog tag
Our 10 Watt package came with the Premium Material Package. This is a fun box filled with tons of sample materials to play with as you explore the functionality of your M1 and Creative Space software.
xTool Home Ventilation
When working with the XTool M1 laser engraver and cutter, proper ventilation is crucial for health and safety. Here is our recommended ventilation strategy we use when using our XTool M1 in our home featuring an in-line exhaust fan. It's super effective, entirely affordable, and fairly easy to build. We have included Amazon affiliate links and approximate costs. The total came in under $120 for us.
Here are some recommended ventilation strategies for using the XTool M1:
Use in a Well-Ventilated Area: Operate the XTool M1 in a room with good natural ventilation. Opening windows and doors can help to circulate fresh air and disperse fumes. An electric fan can also help circulate exhaust fumes towards the outdoors and bring clean air inside.
Exhaust Fan System: Installing an exhaust fan system like we did is very effective. The system should direct the fumes away from the workspace and ideally vent them outdoors. This is important when working with materials that emit harmful fumes, like plastics and certain types of manufactured plywood.
Active Air Filtration System: For situations where venting outdoors is not possible, an active air filtration system can be used. These systems filter out harmful particles and fumes from the air before recirculating it back into the room. xTool offers a unit on their website.
Air Assist: While primarily for improving cut quality, the air assist feature on some laser cutters can also help in dispersing fumes and smoke, although it's not a substitute for proper ventilation.
Personal Protective Equipment (PPE): In addition to room ventilation, wearing personal protective equipment like masks or respirators can provide an additional layer of safety, especially when cutting materials that produce toxic fumes. When in doubt, research what you plan to cut or engrave.
Regular Monitoring: Continuously monitor the air quality in your workspace. If you smell or see increased smoke or fumes, turn your machine off, and adjust your ventilation strategy before continuing. Don't rely on smoke detectors!
Professional Advice: If you're unsure about how to set up an effective ventilation system in your home, consult a HVAC professional. You may need a commercial solution if setting up more complex systems like exhaust fans or air filtration units.
Remember, effective ventilation is essential not only for your safety but also for ensuring the longevity and proper functioning of your XTool M1. There are a lot of other options or products that should also work well, and hopefully this article and our video will help give you some inspiration. If venting to an outside area is not available in your situation, xTool offers a complete Active Air Filtration System. You can find that on the xTool website for $700-$750 here, or on Amazon here.
xTool M1 Add-On Options
There are a bunch of things you can add to your M1 when you're up and running. A very popular optional accessory is called Air Assist. This is a small blower that shuttles air to blow smoke and debris away from your laser as it cuts and engraves. This can help the laser cut faster and deeper at a lower temperature. This saves time and prevents wood discoloration and burn marks, resulting in a cleaner finished product. Additionally, the small air hose can blow debris and smoke away from the laser, which will help keep it cleaner and probably extend the diode laser's life.
xTool M1 Air Assist Install and Demonstration
The XTool Air Assist is an accessory designed to complement XTool laser engravers and cutters. Most wood cuts and engravings will display burned edges from debris that burn during laser processes. Air Assist helps by blowing the debris and smoke away from the cutting area. It's actually installed over the lens! Air Assist has proven it plays a crucial role in improving the quality and safety of laser cutting and engraving processes. Here's a summarized version of its features:
Improved Engraving and Cutting Results: It blows a steady air stream onto the material, clearing away smoke and debris. This leads to neater and clearer cuts and engravings by preventing smoke from disrupting the laser beam (and dirtying the laser lens).
Safety Enhancement: It helps in removing smoke and reduces the risk of fire, especially important when working with combustible materials like thin wood.
Useful for Various Materials: Especially beneficial for materials like wood and acrylic, which produce significant smoke.
Designed for XTool Devices: Specifically tailored for XTool's laser machines, it's an important tool for those looking for cleaner cuts.
Boosts Efficiency: By keeping the work area clean and minimizing the need for redoing work due to smoke damage, it significantly increases the efficiency of laser processing.
Setup and Operation: Installation on the laser machine is required, and users may need to adjust its settings based on the project's specific needs.
Overall, the XTool Air Assist is a key addition for those using XTool laser machines, enhancing the quality, safety, and efficiency of laser engraving and cutting tasks. Available at xTools website, and on Amazon via our affiliate link here: https://amzn.to/3R42YTJ
xTool M1 Riser Base with Honeycomb Panel
The optional xTool M1 Riser Base with Honeycomb Panel. It's a plastic base that sits under the M1 to increase its height. The included honeycomb panel is made of iron and aluminum and has a uniform honeycomb design that helps dissipate smoke, and provides a cleaner cutting finish. If you plan on engraving tumblers, this will come in super handy when you're using the RA2 rotary attachment.
The optional xTool M1 Riser Base with Honeycomb Panel is a specially designed accessory for the xTool M1 laser engraver and cutter. Here are the key features and benefits of this accessory:
Increased Height and Versatility: The riser base is made specifically for the xTool M1 to increase the height of the machine. This enhancement allows it to accommodate a wider range of object heights up to 121mm or about 4 3/4″, expanding engraving and cutting opportunities.
Three-slot Design for Object Placement: The base contains three slots labelled Alpha, Beta, and Gamma. Each is designed to accommodate objects of different heights. Users can select the appropriate slot depending on the size of the object they are creating.
Optimal Heat Dissipation and Desk Protection: The honeycomb panel is designed for efficient heat dissipation, featuring uniformly distributed holes that allow excess light and smoke from the laser machine to dissipate easily. This design helps achieve a more clean and discoloration-free surface on the engraved or cut object, and also protects the desk or surface on which the laser machine is placed. We also use the original bottom plate underneath the riser assembly.
Durable Construction and Compatibility with M1 Accessories: The honeycomb panel is constructed from stainless steel, ensuring a magnet-friendly surface for securing objects, and durability for diode laser use. The riser base is compatible with any M1 accessory. The base supports both laser and blade cutting modes, so you won't ever have to remove it once installed.
Magnetic Fixing Pins: The base and honeycomb panel ship with 4 magnetic pins that fit into the honeycomb cutouts to help keep objects in place during engraving or cutting. These pins are detachable and reusable, and they're pretty darn strong.
Supports the RA2 Pro Attachment: The riser base is designed to support the RA2 Pro, a 4-in-1 rotary attachment compatible with a vast range of cylindrical and spherical objects. This allows users to engrave various objects like glasses, tumblers, glass ornaments, balls, rings, and more. More on this soon!
The xTool M1 Riser Base with Honeycomb Panel is a versatile and worthwhile accessory that enhances the capabilities of the xTool M1 laser engraver and cutter, making it more adaptable, efficient, and user-friendly for a wide range of engraving and cutting projects. You can purchase this on the official xTool website, or via our Amazon affiliate link here: https://amzn.to/416PBGM
xTool RA2 Rotary Attachment
The RA2 rotary attachment that is sold separately or comes with certain M1 packages is next level! You can engrave baseballs, wine glasses, mugs, tumblers, glass Christmas balls, and all sorts of round things other laser engravers cannot engrave. Watch our complete video setup and first use demonstrations here:
xTool M1 Smart Laser Cutter and Engraver: Innovative Features
xTool's M1 has some very interesting features and options. It all begins with the impressive and completely free xTool Creative Space software. All the machine's scoring, engraving, and cutting operations are controlled through this software. Fresh and Felicia have used several brands of cutting software from the likes of Cricut, Silhouette, Brother, and LOKLiK, and found Creative Space to be similar, if not slightly more intuitive and user-friendly. During our xTool M1 review, We were quite surprised how easy it was to navigate considering the dual cutting technologies.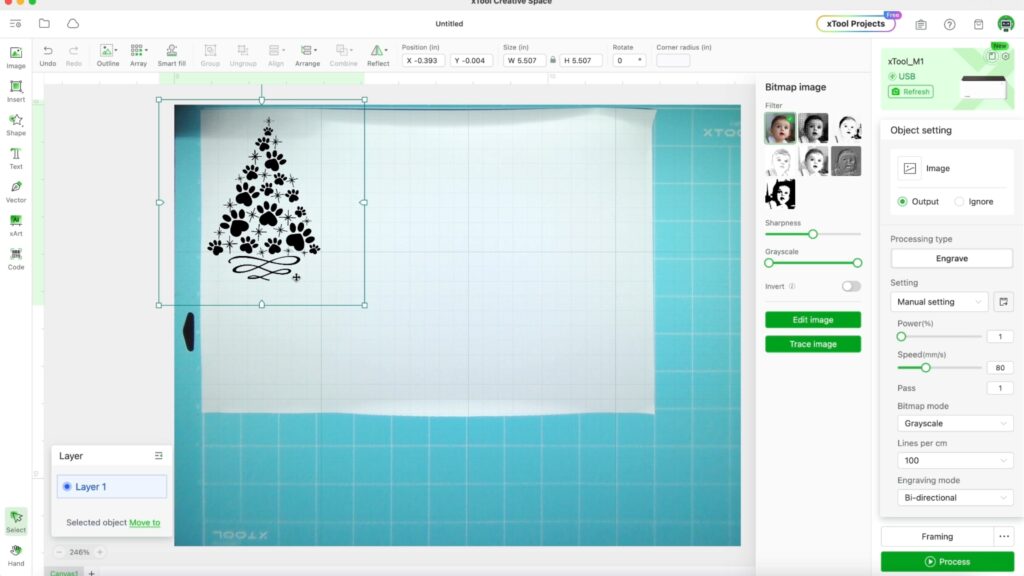 The machine has a transparent orange colored blue-light filter lid that must be closed in order for your M1 to operate. Included in all packages, you'll have a hidden, built-in 16MP high-resolution camera which makes all design operations visualized in the software, so you're not flying blind.
xTool Creative Space Software
We can personally attest the M1 Smart Laser Engraver and Vinyl Cutter and its Creative Space software are very easy to learn and use. Less than an hour after taking it out of the box, we had engraved, cut, and scored our first designs into a 3mm thick piece of basswood that was included in our kit. And our results rivaled something you might find in a well-established craft store. xTool's Create Space software can import and work with JPG, PNG, SVG, DXF, and other types of files. You can also use almost any true-type font already installed on your Mac or PC allowing endless branding or personalization opportunities.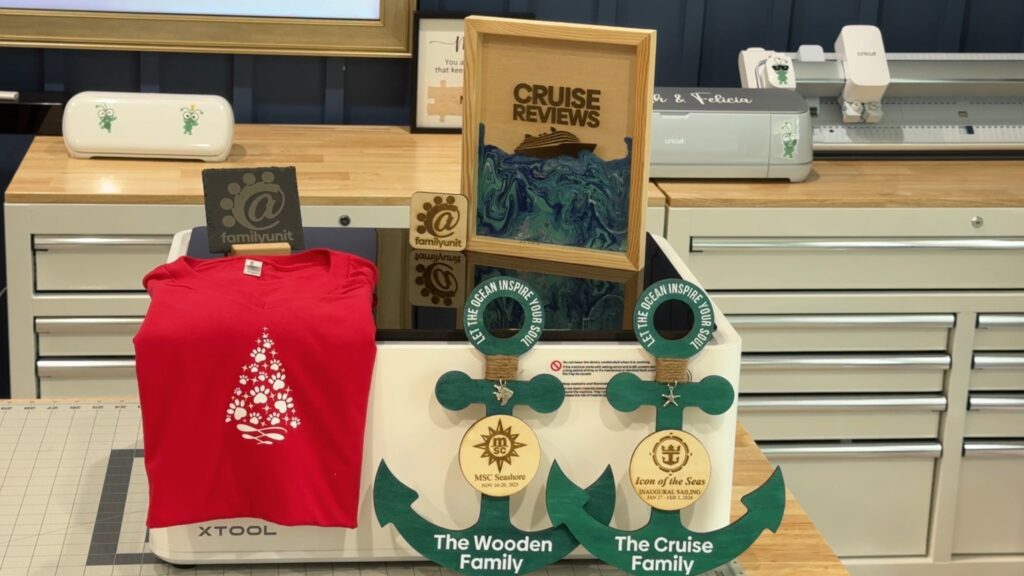 We wrote a beginner's guide to Creative Space software and filmed a few started videos here: https://www.freshandfelicia.com/beginners-guide-to-xtool-m1-how-to-use-xtool-creative-space/
In the next few weeks, we'll publish more photographs, videos, tips, and tricks showing what we've learned about and done with the xTools M1. Watch our video on how we were able to import a design, personalize it, then engrave and cut a wood ornament in one simple function.
xTool M1 Premium Material Package
We received the 245 piece Premium Material Package with 19 kinds of different materials the M1 can cut, engrave, or score. We show what's in it in our YouTube video. There's a wide assortment of wood, metal, vinyl, sticker paper, pleather, and more. It really is the perfect starter set for learning how to use and ultimately mastering xTool's M1.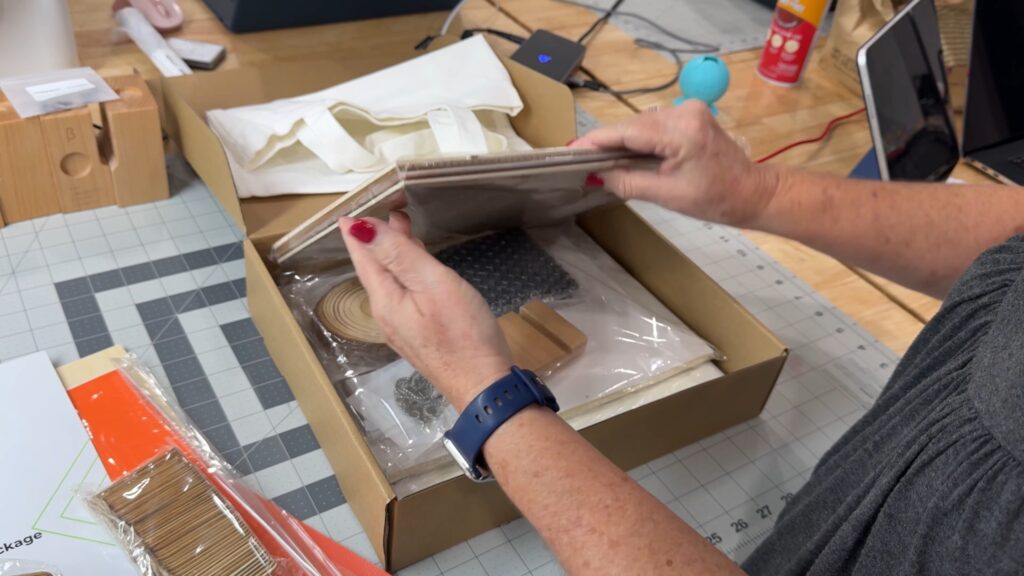 What Can xTool M1 Can Cut and Engrave?
Here's a handy chart that shows exactly what your xTool M1 Smart Laser Engraver and Cutting machine can do, and the processes that are used to do it. This really is a groundbreaking, game-changing machine! There is no other machine we're aware of with these capabilities. Have a look!
| Materials | Laser Engraving | Laser Cutting | Blade Cutting |
| --- | --- | --- | --- |
| Wood | √ | √ | – |
| Dark opaque acrylics | √ | √ | – |
| Stainless Steel | √ | – | – |
| Electroplated Metal | √ | – | – |
| Painted Metal | √ | – | – |
| Bamboo | √ | √ | – |
| Dark Glass | √ | – | – |
| Ceramic | √ | – | – |
| Cement | √ | – | – |
| Brick | √ | – | – |
| MDF (engineered wood) | √ | √ | – |
| Jade | √ | – | – |
| Marble | √ | – | – |
| Shale | √ | – | – |
| Copy Paper | √ | √ | √ |
| Kraft Paper | √ | √ | √ |
| Corrugated Paper | √ | √ | √ |
| Sticker Paper | √ | – | √ |
| Cardboard | √ | √ | √ |
| Fabric | √ | √ | √ |
| Felt | √ | √ | √ |
| Leather | √ | √ | √ |
| PU Heat Transfer Vinyl | – | – | √ |
| PVC Sheets | – | – | √ |
| PVC Heat Transfer Vinyl | – | – | √ |
| Self-adhesive PVC | – | – | √ |
xTool Affiliate Product Links
After you've watched our xTool M1 review video and you're ready to begin creating amazing things with wood, metal, cardstock, or vinyl, use our affiliate links below and help support this blog and our YouTube channels. Thank you!
Products used in our xTool M1 review videos (affiliate links):
Looking for more crafting products?