We absolutely loved HTVRONT's Auto Heat Press for our heat transfer vinyl projects! It does everything competing heat presses do at a fraction of the cost. And now, their latest heat press, the HTVRONT Auto Tumbler Heat Press, is an incredibly smart and innovative improvement for those who want to create beautiful custom, permanent, dishwasher-safe designs onto narrow sublimation tumblers, glass water bottles, sippy cups, or 11-12 ounce mugs. Don't worry if you've never done this, or if it sounds confusing. Felicia will explain the entire sublimation process in this article, and in her videos on her popular @FamilyUnit YouTube channel.
There are several commercial heat presses that can apply sublimation designs to drinkware with a coating that accepts sublimation ink. Most of those run several hundred dollars, making them out of reach for a lot of crafters like us. But once again, the genius engineers at HTVRONT have figured out how to do this safely, effectively, and affordably. During HTVRONT's Black Friday sale, the huge savings the company is offering can put this machine in your home for under $200. Considering what this machine can do, that is an amazing deal. We'll post our special affiliate links to the official HTVRONT website and also Amazon with our special codes that can help you save even more later in this article.
What Is This Sublimation Thing?
Many people create t-shirts, hoodies, bags, mugs, tumblers, and other things using heat transfer vinyl that look great. But there are certain limitations to heat transfer vinyl designs. Most HTV designs are a single solid color. If you want to use multiple colors, it can be challenging to properly cut and align the colors so they fit together the way you want them to. And there is no real way to get gradient colors or shades with heat transfer vinyl because it's not transparent. This means many illustrations, caricatures, logos, or photographs cannot be applied to a garment using only heat transfer vinyl.
That's where dye sublimation printing comes in. Unlike screen printing, which spreads ink across the surface of an object, sublimation printing is a digital printing process that uses heat and pressure to infuse special heat-activated inks or dyes into certain materials. Sublimation printing, sometimes called "infusing," actually embeds the ink into the fabric through a chemical process that's activated with heat. The ink turns to a gas and attaches to polyester or specially coated fabrics permanently. This makes sublimation products washing machine and dishwasher safe. Sublimation is usually only printed on polyester or polyester blends that are at least 60% polyester for the best effect. We have experimented and found sublimation will temporarily work on cotton shirts, but the colors won't be as vibrant, and they'll usually wash away as soon as they are in contact with water.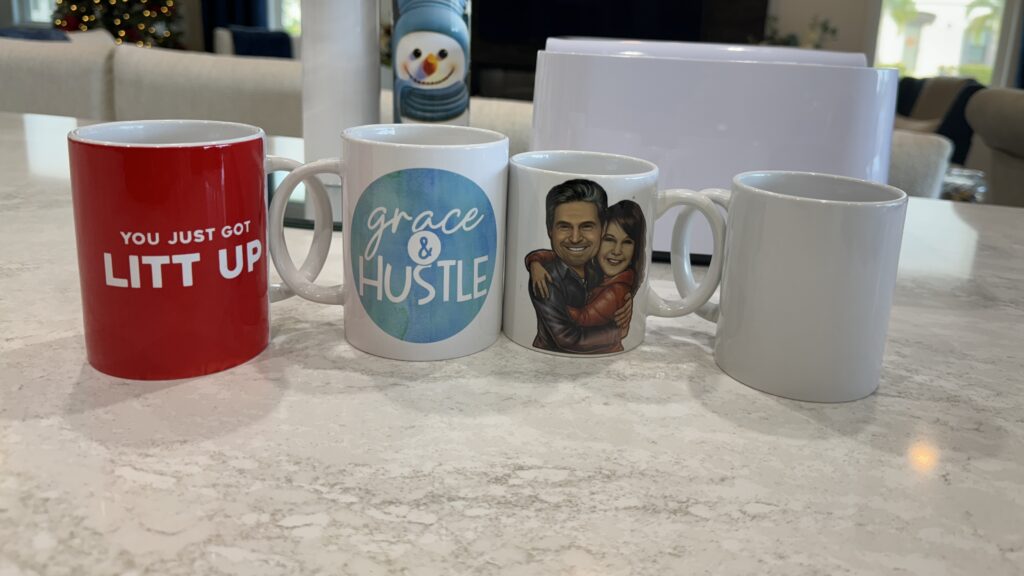 A hard coated ceramic sublimation tumbler or mug has a special glossy coating on the surface that is designed to accept sublimation inks when heated. This coating helps the dye from the sublimation ink adhere properly to the mug to produce vibrant prints. The coating is usually a very thin layer of some form of food-safe polyester. Sublimated products should hold up for many years of being washed in a dishwasher, but fading over time is normal. For a longer lasting image, place the mug on the top rack of the dishwasher and as far away from the heating element as possible. Microwaving will not harm the colors.
Sublimation printers can be quite expensive! Fortunately, a few clever folks have figured out how to convert home inkjet printers into sublimation printers. You can purchase a kit on Amazon to do this yourself. It's not difficult. Be aware, converting a printer will definitely void any manufacturer warranty. Felicia converted one of her printers, shown in the video below.
The base color of the object matters. A solid white or light colored base object will show the sublimation ink much better than a dark object. You can use colored objects as long as your design is significantly darker than your surface. Transparent tumblers may appear to have the colors muted a bit, but still look very cool.
If you would like to get a printed logo, photograph, or other full color design on to a dark garment, you can use something called Printable Vinyl. Felicia experimented with that product and process in the video below.
HTVRONT Auto Tumbler Heat Press Features
Unlike a popular mug press that's much smaller and shorter, you can sublimate an entire tumbler or two 11-12 ounce mugs with one single heating cycle with no more manual or repetitive pressing. With one click, the HTVRONT tumbler heat press automatically measures the diameter of the drinkware, and then applies the ideal pressure automatically, creating perfect professional-grade tumbler projects in a single operation every time. Thanks to its extended and larger heat plate, this mug heat press fits a wide array of mugs, tumblers, glassware, cups, water bottles, and sippy cups. It accommodates tumblers 2.9 inches (7.5cm) to 3.35 inches (8.5 cm) in diameter and ranging from 10 to 30 oz (280ml – 850ml). Plus, the additional length of HTVRONT's mug press offers a unique two-mug feature, where you can heat two mugs back-to-back simultaneously.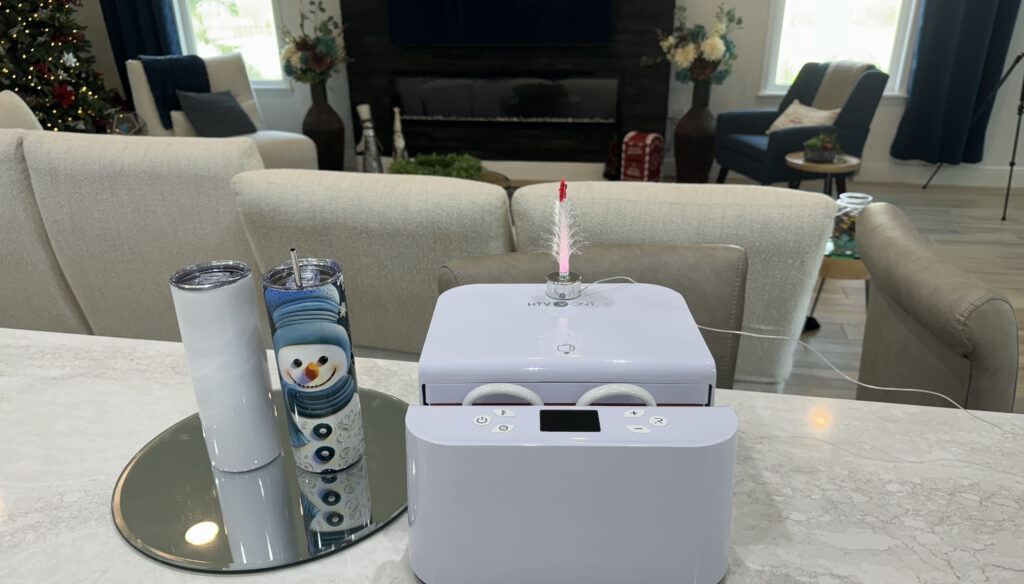 HTVRONT's employees and owners have families too, and they are very concerned about your safety. The heat press automatically powers off after 15 minutes of inactivity, so you won't have to worry about leaving it on and using too much electricity, or someone accidentally touching the covered heating element. Smell something funny? See smoke from something inadvertently left in or on your mug? No worries. Their tumbler and mug press also has an emergency stop feature for added protection. Simply press the "R" button on the front of the machine, and your tumbler heat press instantly turns off the heat and releases the mug or tumbler before it's too late.