The original Cricut Joy was an amazing innovation. The ability to cut vinyl and cardstock with a portable electronic cutting machine you can control via a standard Bluetooth connection and a smartphone app was game changing! We've brought ours to schools, sporting events, art and craft shows, and have actually created personalized items from the back of our car. But the Cricut Joy Xtra machine is completely next level.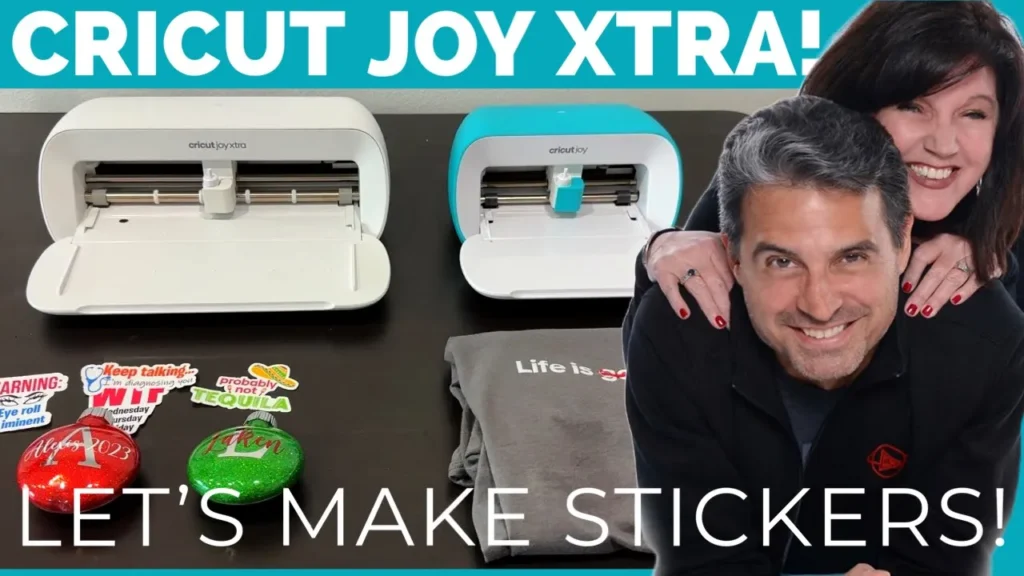 The new Cricut Joy Xtra is extra in a few important ways. Joy Xtra is slightly larger, allowing for wider cuts. The original Joy cutting blades, foil transfer tips, and pens will work in Joy Xtra, however you'll need new cutting mats if you're not using Cricut's "smart" materials. Mats are not included with the new machines.
There's still no rotary blade in the Xtra, so super accurate cuts on materials like felt and other fabrics aren't possible with this machine. You'll still need to upgrade to the Cricut Maker for that kind of work.
The major difference between the Cricut Joy and the Cricut Joy Xtra is the Xtra has the sensors necessary to do print and cut. The print and cut process is necessary if you plan on making full color stickers, magnets, or printable vinyl t-shirts. Once your Xtra is properly calibrated, you can then print your designs, and it will know exactly where to cut them for a truly professional finish.
We got our Cricket Joy Xtra as a bundle from Amazon. Our kit included a light grip mat, printable waterproof sticker paper in white and in white holographic, as well as a basic Cricut tool kit for weeding and peeling.
We decided to play with the new print and cut features with the Cricut Joy Xtra. We made stickers using the waterproof sticker kit.
Our first thoughts were from a speed perspective, it's just as fast, but not faster than the original Cricut Joy. We also thought Xtra was slightly louder than the original Joy, but we did not perform sound tests. Both machines appear to integrate perfectly with Cricut's Design Space software, and cut our stickers perfectly with professional-looking offsets. Here's the actual video from our first Joy Xtra project.
We're really excited to explore the possibilities using Cricut's newest cutting machine, the Cricut Joy Xtra.
✅ Materials used in this project:
➡ Cricut Joy Xtra – https://amzn.to/3ReOkuo
➡ Cricut Joy – https://amzn.to/3EI13hZ
➡ Cricut Joy Xtra Light Grip Mat – https://amzn.to/3LRm0er
➡ Cricut Waterproof Sticker Set – https://amzn.to/46c0Y1A
➡ Cricut Basic Tool Set – https://amzn.to/3LtU9R9
➡ Cricut Joy Xtra Smart Removable Vinyl – https://amzn.to/48eVMvT
✅ Need more crafting products?
👉 Visit Cricut's Site for all things Cricut: https://cricut.pxf.io/QOaOBa
👉 Check out our Idea List for yourself or gift ideas: https://amzn.to/46jF0cX
👉 Visit Our Etsy Store! https://www.etsy.com/shop/FamilyUnitOriginals
👉 Some of our favorite vinyl is from Teckwrap: https://teckwrapcraftaffiliateprogram.sjv.io/Gmg2oE
✅ Subscribe to our YouTube channel! We appreciate every 👍 and would love it if you'd subscribe to our channel! It's free! Subscribe here
➡ https://www.youtube.com/@FamilyUnit?sub_confirmation=1
🎞️ More Helpful How-To Videos
✓ How to Use a Cricut Maker – https://www.youtube.com/watch?v=F0qzvg_xf9c
✓ Brother Scan n Cut SDX125 Review – https://youtu.be/yrSbRe35tpw
✓ Brother SE1900 Sewing and Embroidery Machine – https://youtu.be/Q6RtRZLcJ7o
❇ Disclosure
Links included in this blog and comments may include affiliate links. If you purchase a product or service with the links that we provide we may receive a small commission that helps us pay our bills. Don't worry – there is no additional charge to you. Thank you for supporting our blog and channel so we can continue to provide you with free content!