NAKTO electric bicycles has spent over 7 years pioneering advanced ebike technologies and innovative features that distinguish them from other e-bike brands. They have sought out reliable and robust motors, the safest battery technology, and intuitive controls and displays. And the Nakto F4 Electric Bicycle is no exception. The Nakto F4 is a powerful yet smooth and stable riding sports utility bicycle with ample power to carry riders and cargo for many miles.
Available in a brilliant easy to see urban yellow and a forest-ish green for hunting crews, we were extremely pleased to find Nakto offering colors other than the typical grey and black found on most competing electric bicycles.
Assembly of the Nakto F4
Assembly was ridiculously easy. Both wheels and tires, brakes, fenders, and everything else came pre-assembled in the carton. Riders only need to attach the handlebars with four bolts, two pedals, and the rear rack assembly. It took us about 45 minutes.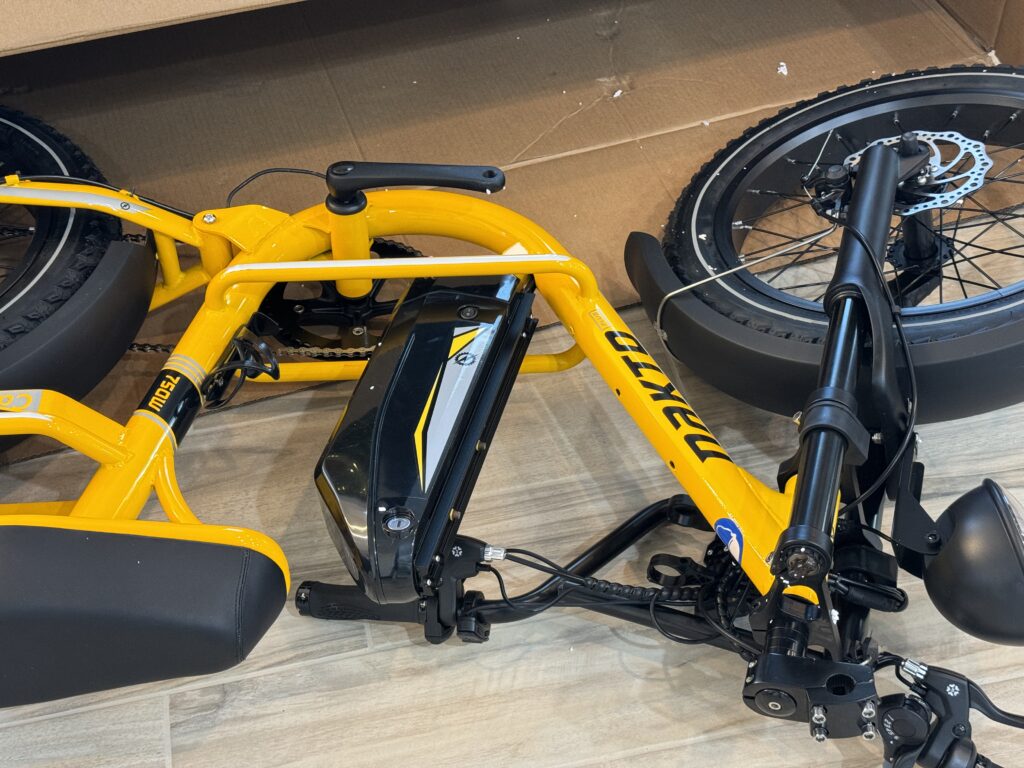 Our battery mount assembly disconnected during shipping, but there was no visible damage to the battery. We realigned two welded cylindrical nuts into the frame and used E6000 to secure them. Since the weight of the battery is supported by a metal ledge built into the bottom of the frame, we're confident the battery will stay in place. After several bumpy test rides, it remained secured.
Nakto F4 Features
Since it is sold as a cargo bike, the Nakto F4 features an upgraded 750 Watt/1000 Watt peak power rear hub motor. TNakto's F4 is rated to deliver 52Nm of torque for easy acceleration and smooth navigation through loose dirt and stones. We were able to accelerate the F4 to about 21 MPH using pedal assist level 5.
The 48 Volt 20 Amp battery offers 960 Watt hours of energy, which translates to an ample range of 40 to 60 miles per full charge. Of course, as with all electric bicycle battery range estimates, this depends on a variety of factors including tire inflation, inclines, weight, and the rider's level of pedal assist.
The independent front and rear suspension was a nice surprise, providing a smooth and comfortable ride on streets, sidewalks, or rugged trails. The 20 inch diameter by 3 inch wide all-terrain fat tires help provide additional cushion and better traction on wet or loose areas.
Although Felicia and I found it very comfortable, some riders may not appreciate that the custom oversized saddle is not user replaceable. Like most motorcycles, mopeds, or scooters, the seat height is not adjustable. Nakto advertises the F4 will fit people from 4'10" through 5'9″. Felicia is about 5'3″ tall, and she was very comfortable with the size of the frame and the fixed height of the seat. Someone a few inches shorter can probably balance on their toes while remaining on the seat and stopped. Fresh is just under 6′ tall, and he remarked he was able to pedal comfortably. Fresh estimates the top rider height would probably be 6'2″ if a rider wanted to pedal.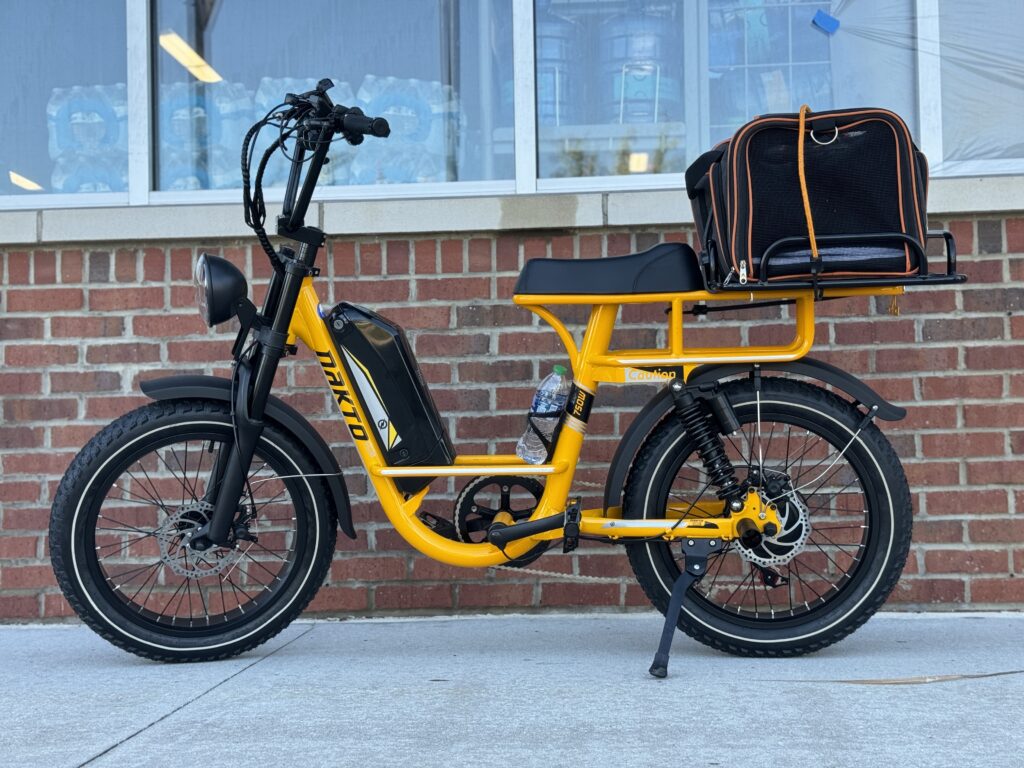 The Nakto F4 features a rear rack with a very spacious cargo area. Since Felicia does deliveries for a local business and carries her Etsy store sales to the shipping vendor daily, she was quite pleased with this feature. With the ability to mount and carry takeout racks, top-mounted boxes, custom cooling bags, and even pet carriers, the options are limitless. Although we cannot verify this, there are custom mounting holes available that we suspect would probably accept many brands of child bike seats. The top weight recommendation is up to 400 pounds including rider and cargo.
The color LCD display provides a wealth of information, including current speed, max speed, average speed, odometer, trip meter, range, calories, trip timer, clock, mode, watts or amps, battery percentage or bar, and assist level (0-5).
Nakto's F4 does include a very bright front LED headlight for night riding and general visibility. We were surprised there was no rear light included in the package, which is required by some jurisdictions by law for people riding at night. There are several affordable options on websites like Amazon that would work with this frame.
When you're ready to buy, use our affiliate link and save! https://shareasale.com/r.cfm?b=242079…